Everyone is always looking for ways to make money. If your goal is to side hustle and earn extra income, I am sharing 25 easy ways to make money from home. I have tried most of these side hustles over the years, so I am excited to share these ideas with you. Many people do not think it is possible to work from home, but this is false! If you have a computer and internet, then you can succeed!
Many people start a side hustle for different reasons. Here are some of the most popular reasons people start a side hustle:
Get out of debt
Pay off bills
Start an emergency fund
Save for a vacation
Pay off student loans
Save for retirement
Pay off credit cards
and much more!
Now is a great time to get started making extra money. The best part about all these side hustles is that you can get started today.
Here are 25 easy ways to make money from home
Take surveys
This is one of my favorite ways to make money from home because I can take these while sitting on the couch 🙂 Over the years, I have made thousands of dollars taking surveys.
Many of these surveys allow you to earn cash back that go into your PayPal account. You can also earn points for gift cards to places like Target, Walmart and Macy's.
These are the surveys that pay out the best:
Pinecone
This is similar to other survey sites – you earn points for taking surveys and then you redeem your points for a pre-paid Visa gift card or rewards. I like Pinecone because you get to give your opinion on products (and even test them out), so your input influences whether or not products hit the shelves. You can sign up here! 
Swagbucks
Aside from being able to shop online, Swagbucks lets you watch videos that earn you points! These points can then be exchanged for gift cards and cash back. You can earn gift cards to places like Amazon, Target, Starbucks, Walmart – basically places you normally already shop at. You also get a $5 bonus when you sign up here!

Survey Junkie
This is one of my favorites! The surveys are easy and quick and fun! Sign up here.
YouGov
This is one of my favorite survey companies. You answer really current questions related to the economy and you also get to see the results. You can cash out for a ton of different gift cards, like Visa, Walmart and more. Sign up here and receive 2,000 bonus points!
VIP Voice
VIP Voice lets you earn rewards for completing surveys as well as writing in an online, virtual journal, which makes it different from other survey companies. Sign up here to get started with VIP  Voice.
Opinion Outpost
These surveys are on current events, products, food, medicine, etc., and you can earn cash back or gift cards, like Amazon, PayPal and more. Sign up here to get started with Opinion Outpost.
Earn money from your cell phone
Ibotta
Ibotta is a cell phone app that lets you earn cash back rebates from purchases you make at the grocery store, drug store and various shopping places. This is by far one of my favorite ways to make money and earn instant cash back. The money can quickly be transferred into your PayPal account.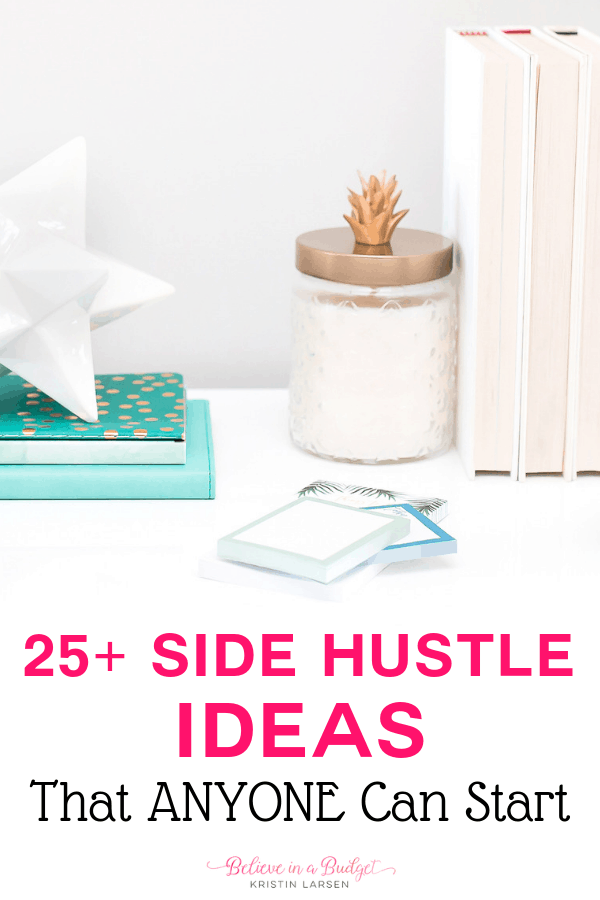 I also love this app because you can use it every single time you go to the grocery store or places like Target or Walmart.
You just scan your receipt, see what items you purchased have a cash back offer, and then redeem the rebate.
What I like best about this app is that many of the rebates aren't brand specific.
This means you can typically find a rebate that is for something generic like "$0.50 off any brand of milk" or "$0.75 off any brand of bread".
The savings add up fast! Join Ibotta and earn a $10 cash bonus! 
Start saving, even if it's only a few dollars a week
Whether you want to start an emergency fund or a vacation fund, you have to start setting some money aside.
If you're like most people and struggle with saving, you should consider using Digit. 
I've just started using this free program and love it. Digit lets you save money each week from your checking account.
What I really like about Digit is that it analyzes my bank account and determines how much I can really save per week.
Some weeks it might be $5 and other times it might be $20. You don't have to worry about overdraft and can contribute less or more if you need to.
As of now, I don't know an easier way to save money! You can learn more about Digit here. 
Receipt Hog
Receipt Hog is another cell phone app where you can earn cash back by scanning your receipts.
You can use almost any receipt, such as from the grocery store, gas station, restaurants and more. Your cell phone will even remind you that it's time to 'feed the hog', ha! Learn more here.
Easy Shift
This is another cell phone app where you can pick up quick, 5 to 10 minute mystery shops on your cell phone. Most of the shifts take place at the grocery store or drugstore.
The shop involves using your cell phone to snap pictures of grocery aisles or a certain food product. 
You can make anywhere from $4 to $12 each shift you accept. Once you finish the shop, you get the money in your PayPal account within a couple days.
Sell your services on Fiverr
If you are just getting started freelancing, this can be a quick way to get started making money. Most jobs pay $5 (hence the name), but you can add in extra options to drive up the cost.
There are a lot of freelancers who make a living full time selling on Fiverr. 
Earn cash back shopping online
If you shop from home, you might as well make money from it. You can make mad cash back every time you shop online with Ebates.
Out of all the ways to side hustle, this is one of the best ways to make money because you don't actually have to do anything but shop online.
Ebates will give you a $10 cash bonus when you sign up. I've earned hundreds of dollars back since I signed up with them a few years ago. The cash back adds up really fast. Join Ebates here!
Start a blog 
I went from making $40/month to over $4,000/month in the span of six months. That's crazy! Here is a tutorial that walks you through how to start a blog. This is one of the best long term side hustles. 
Blogging has totally changed my life. I even share my online income reports so other people can see how I got started and how I am growing. 
Learn affiliate marketing
Do you have a blog or website, but aren't sure how to make money from it? Making Sense of Affiliate Marketing will teach you learn how to make money online. The course creator earns over $50,000 a month in affiliate marketing, so you don't want to miss out on this course!
Create products with Zazzle
Zazzle lets you create and design all your own products, and then sell them on your website or Zazzle's website!  You earn a commission of each sale and set your own rates. Here's a Zazzle tutorial to help you get started. 

Become a pet sitter
If you love animals, you can offer pet sitting services per day or even overnight. Rates vary by city, but most pet sitters can make a minimum of $35 per day as a pet sitter. Check out Rover!
Sell on Ebay, Etsy, or Facebook MArketplace
If you aren't sure how to even get started on how to sell and ship things on Ebay, this tutorial will walk you through everything you need to know. This is a classic side hustle and still lucrative.
Facebook Marketplace makes it even faster to sell your stuff!
I recently sold a few items sitting around my house in less than a day.
Just make sure you meet the buyer in a safe, public space!
Want to go the more digital route? Try creating and selling printables on Etsy. You can work from the comfort of your home, you don't have to meet people in public, and you don't even have to ship anything!
Rent out your space on AirBnB
Over the past couple of years, I have stayed at a handful of AirBnB's and saved a ton of money. Have you ever thought about renting out your home for a weekend? Here's more information on how to be a host.
You can learn more about how to use AirBnB here. You will also get a coupon for $30 off your first stay anywhere! 
Mystery shopping
This is becoming more and more popular as there are a ton of websites you can sign up with. I have made thousands of dollars as a mystery shopper. One of my favorite mystery shop companies is A Closer Look. 
You can learn more about mystery shopping from these posts:
Work for a mystery shopping company
Learn more here about how to work part time for a mystery shopping company. If you have good time management skills and are organized, this might be a lucrative part time job.
Write and self publish a book
Have you ever wanted to write your own book? You can sell your book on Amazon, Gumroad and other major online sites.
Angela J. Ford is a published author who writes about the book process on her website. Check out her blog to get started. Oh, and if you love the scifi genre, check out her books here.
Offer freelance or virtual assistant services
This is a lucrative side hustle as there is a ton of work available for freelancers and virtual assistants. You don't necessarily have to have experience in this field as many offer on the job training when you get hired.
You can also start offering your own services and create a "Hire Me" page on your own website if you want to get hired.
This side hustle is not one of the easiest ways to make money right away, but can be quite lucrative and turn into a part time job or full time job.
Some job positions include:
Scheduling blog posts
Uploading images to websites or social media
Editing articles and blog posts
Managing writers
Writing blog posts for magazines, online publications and blogs
Designing graphics
Scheduling social media posts
Responding to emails
and much more!
If you aren't sure how to get started in this field, here are a few courses to help you: 
Become a Pinterest VA TODAY! – This course is designed to help freelancers and VA's (virtual assistants) get into Pinterest, one of the hottest niches for bloggers and businesses. As long as you are comfortable using Pinterest, this course is exactly what you need to grow your business!
30 Days or Less to Freelance Writing Success – You'll learn how decide what to write about, how to gather writing samples, decide where to display your portfolio, blogging and email list strategies, how to construct a writing resume and how to develop your pitch and more!
30 Days or Less to Virtual Assistant Success – You'll learn how much to charge for your services, where to find clients, tools you need as a VA (virtual assistant), what types of services you can offer, training, templates and access to a private Facebook group.
Email Management for Virtual Assistants– In this course you'll learn how to be an email management rockstar, helping clients declutter their inboxes and create systems to keep everything organized.
Create A Virtual Assistant Agency – Once you've reached full capacity with clients, you can increase your income without increasing your workload by starting an agency. This course walks you through step by step on what you need to do in order to build a VA legacy.
Additional reading
Here are some more tips to start a side hustle:
If you are trying to save money, these posts will help you get a boost in your finances:
5 Tips for a No Spend Day or Week or Month
12 Dumb Mistakes I Made While Paying Off Debt
✕
Free 7 Day Blogging Course via Email
Join thousands that have learned how to start and grow a profitable blog. Sign up for free tips below!
Do you side hustle from home? What's an easy way to make money for you?