Have you ever had a no spend day or week? Ever told yourself you will not touch those credit cards? If you haven't, you should consider freezing your spending for a few days to save money.
Incorporating a spending freeze into your budget can be quite healthy for your finances. One way to do this is by adding a no spend period into your monthly budget.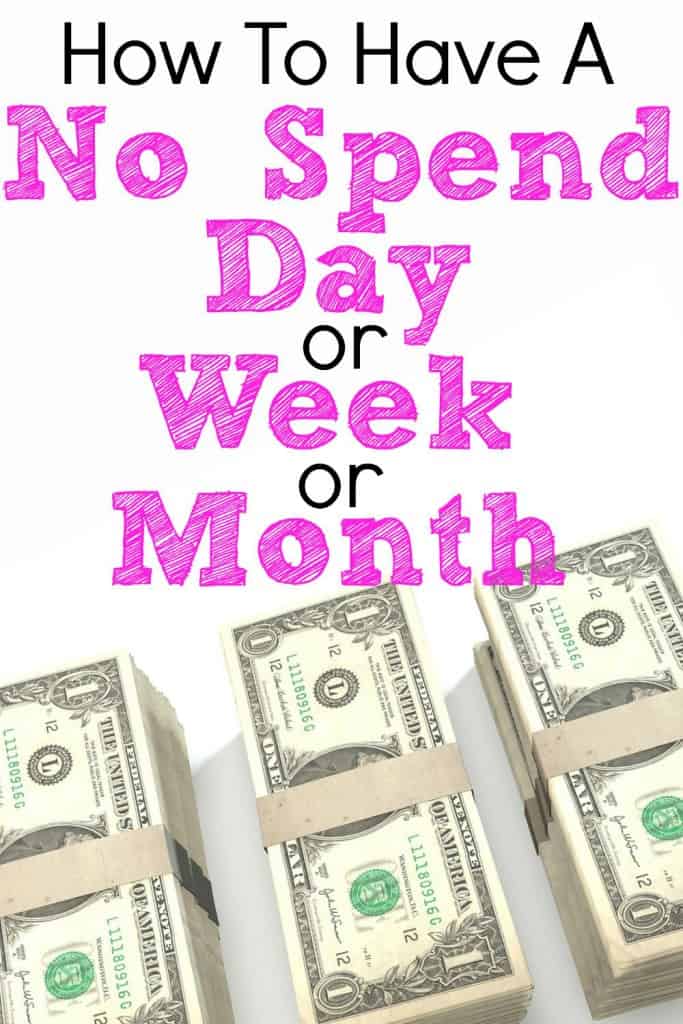 Be Prepared
In order for your no spend period to be successful, you must be prepared. 
A no spend period might actually include some spending on necessary items, such as gas or groceries.
The key is to eliminate any extra spending during this period.
Determine the length the no spend period will last – a day, week or even month
If you are a beginner, I would start with a small goal. This leads to more success!
This could include a no spend weekend or my personal favorite, a no spend work week.
I find it easiest for myself to save money during the workweek.
I always pack my lunch and enjoy the coffee my work provides.
After work, instead of stopping at the grocery store to grab a couple things, I'll head home instead and eat the groceries I already have.
If you are really looking to jumpstart your savings or pay off debt, you can really ramp up your spending freeze and challenge yourself to a no spend month.
This is a great idea if you overspent the previous month and you are looking to get your finances back to normal.
How to save money if you can't do a no spend day or week
One of the best ways to make any money from shopping is using Ebates. Ebates pays you a percentage back when you make a purchase online.
While I limit my shopping, I always use Ebates first when I start shopping. Then all of your earnings are deposited into your PayPal account. Yippee for free money!
If you are new to Ebates, claim your $10 now (either in the form of a $10 GC to places like Target or $10 off a $25 purchase!)
Ibotta
This cell phone app helps you make money off your grocery receipts. Yup, for real! You use it after you go grocery shopping and use your receipt. It's basically a rebate app, so you can earn anywhere from 50 cents to $5 off everything you buy.
My favorite part about Ibotta is that it's not always brand specific, like a lot of coupons are. So you'll be able to scan "any brand of bread" for 50 cents off, etc. If you do coupon – you can STILL use Ibotta and get a rebate.
For the diehard couponers out there, this will often result in getting an item for FREE. When you sign up, you will receive a $10 cash bonus when you make your first scan! 
If you are going to shop, you might as well make money doing it.
Use the Target REDCard (it's a debit card)
The Target debit REDCard is one of the best debit cards to save money. The best part is it's NOT a credit card. You can save 5% off every purchase and this isn't a credit card. It's just linked to your bank account. I shop at Target all the time and the 5% savings add up! 
Plus you get free shipping, which helps save money! Don't forget to use the Target Cartwheel App on your phone to combine even more savings. You can learn more about the Target debit REDCard here. 
Get creative to help you achieve a no spend period
One of the hardest parts during the no spend challenge can be figuring out how to use what you have. This is where a bit of creativity can really pay off!
This can include:
using up the remaining groceries in your pantry
downloading a podcast instead of renting a movie
borrowing a book from the library (many times you can do this online through your library's website)
going on a walk with a girlfriend instead of going to happy hour
clean your house and find items to sell 
learn how to travel for cheap – or even do a volunteer trip where you get free lodging and food in exchange for volunteering!
Tip: If you like to travel, try staying at an AirBnB instead of a hotel. This a fun and creative way to save money.
Over the past couple of years, I have stayed at a handful of AirBnB's and saved a ton of money. I've been able to rent an entire house, condo and apartment instead of a room at a hotel.
If you want to stay at an AirBnb, here's a coupon for $30 off your first stay anywhere! 
Reassess your wants and needs 
A no spend day or week or month can really help evaluate what you want or need. It is so easy to mindlessly spend money on coffee every day or overspend at the grocery store. By saying no to everything for a set period of time, you can really get an eye opening experience on where you are spending your money.
How to proceed after the no spend period ends
This is an important period. You don't want to fall back into any bad spending habits or go on a shopping spree. This is a good time to look at how much money you saved during your no spend period.
What do you plan to do with your savings? Are you going to transfer it to your savings account or use the extra money to pay off some bills?
Start saving, even if it's only a few dollars a week
Whether you want to start an emergency fund or a vacation fund, you have to start setting some money aside. If you're like most people and struggle with saving, you should consider using Digit. 
I've just started using this free program and love it. Digit lets you save money each week from your checking account. What I really like about Digit is that it analyzes my bank account and determines how much I can really save per week.
Some weeks it might be $5 and other times it might be $20. You don't have to worry about overdraft and can contribute less or more if you need to. As of now, I don't know an easier way to save money! You can learn more about Digit here. 
Make money instead
If having a no spend period seems tough, consider trying to make money instead. There are so many things you could do to earn extra income:
Take surveys 
This is one of the best ways to make money that won't cost you anything to get starte! I have made thousands of dollars over the past few years taking surveys online and participating in research studies.
Not all surveys are created equal. I have weeded through a ton of companies to figure out which ones pay the best.
Related:
Here is the best list of surveys to earn cash and make money.
How to make extra cash during the holidays
Side hustle
I have made more than $4,500 in one year in my spare time thanks to side hustling. If you have something you would like to share with your readers that can help them – whether it's mentally, financially or physically – go for it. Here's a list over 40 different side hustles that you can start! 
Start a blog
This blog made me over $13,000 in 6 months as a newbie blogger. That's a lot of extra income I never planned on making. 
If you are thinking about starting a blog, this tutorial will help you start a blog today. You'll also get a FREE domain name for a year! I was able to quit my job and blog full time, all within my first year of blogging. I am really glad I took a chance and started a blog! I invested around $100 to start my blog using Bluehost, and I made $13,000 in 6 months of blogging. That's the best return of investment ever!
Have you ever tried a no spend period? Do you think could hand a no spend day or week?