It's time to share what it's like to be a full time blogger! Around this time last year, I was working full time and trying to get my blog off the ground.
When I published my post on what it's like to work full time and blog, I received a lot of comments from readers.
Related: A Typical Day in the Life of a Part Time Blogger
Most readers were really positive and found the post to be really informative and useful.
Since there isn't a one-size-fits-all guidebook on what it's really like day-to-day when it comes to blogging, it was really nice other new bloggers were experiencing the same thing
First, I recommend downloading these free guides to help you with your blogging journey:
A couple readers thought I was nuts way too busy all over the place with my schedule and it wasn't orderly enough. Yup, that was true! I had to fit in blogging whenever I could.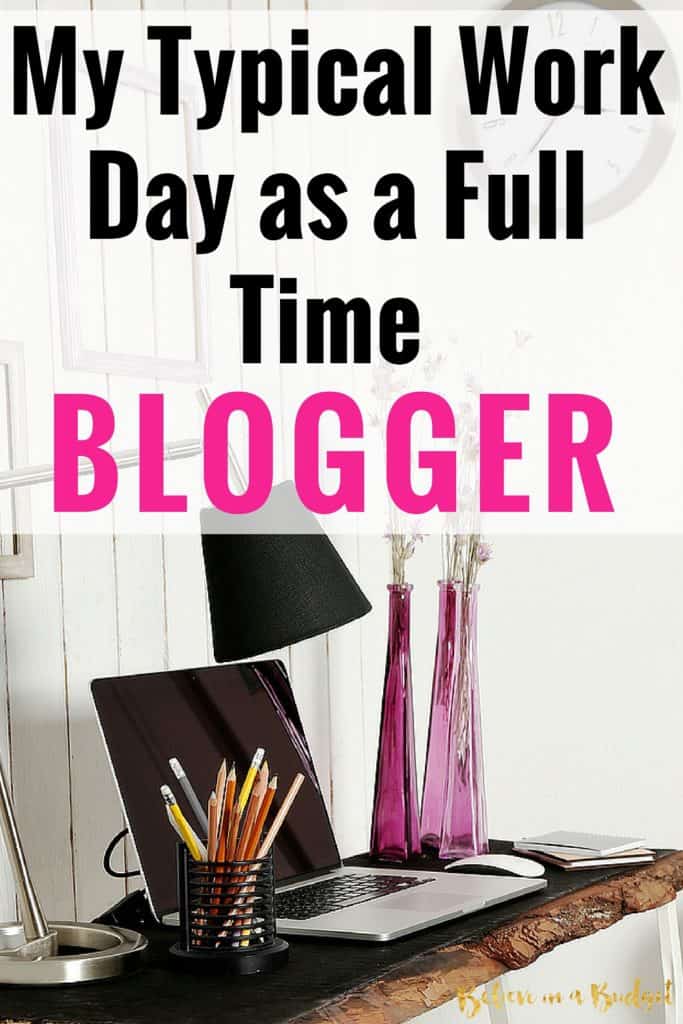 Since I need to money to survive, the full time day job always was priority number one.
Side hustling was second, since that was guaranteed income. I side hustled a lot!
So much so, that I even wrote Side Hustle to Success about how I made more than $7,000 side hustling in just a couple years in my spare time.
Then, with time remaining, I blogged. This was usually from 6:30-8:30am and then 8:30-11pm at least 5x a week.
Because I was on a budget, I did 99% of everything by myself to save money.
I did a lot of research, wrote a new blog post three time a week, and made a ton of mistakes which included the white screen of death a few times 🙂
It took me around six months to earn that first paycheck, which came from a couple affiliate sales. I made around $60! I even published my first online income report, which remains my most popular income report I've ever written (which surprises me, TBH).
Shortly after, I received my first $100 paycheck from Google Adsense and felt part badass and mentally exhausted at the same time haha. Without a doubt, that was the longest and hardest paycheck I have ever earned!
What totally shocked me was after I published my first online income report, I was able to keep it up. If you had told me when I received that first blogging paycheck for $60, that in less than six months my monthly income from blogging would increase to over $4,000, I would have told you that is crazy talk!
---
If you are thinking about starting a blog, this tutorial will help you start a blog today. You'll also get a FREE domain name for a year! I was able to quit my job and blog full time, all within my first year of blogging. I invested around $100 to start my blog using Bluehost, and I made $13,000 in 6 months of blogging. 
Along with getting hosting for your blog, you'll also need a theme. While you can get them for free through WordPress, I prefer these:
---
Here's a few of my online income reports from the last year:
Things started to go really well with the blog! In addition to blogging, one of my main side hustles I started doing consisted of part time consulting work in my real-life career niche.
The wheels in my head started turning and I decided that with careful planning, I would quit my job in October so I could be a full time blogger, as well as continue my consulting work.
I gave my day job a 90 day notice (I knew the position would be tough to fill and train) and there was no looking back! I was determined to be a full time blogger and start my own successful online business.
Since October, I have spent about half my work day running and growing my Pinterest marketing company that I launched thank to my blog.
The other half of my work day is spent on my own brand – which means blogging, creating products, working with brands, etc. I still find time to consult in my career niche as well, which I don't really write about on the blog (I like to keep it separate.)
Typical Day in the Life of a Full Time Blogger
While it's totally cliche to say this, no two days are the same when it comes to blogging. However, the motions I go through are pretty similar.
While I love to be my own boss, I do like structure and some routine! I've gotten a pretty good grasp on when I work efficiently, even if it's not always an eight hour work day or the normal 9-5 work hours.
I have to admit it, being a full time blogger is amazing!
Here's what my typical work week looks like (Mon – Fri)
Option A
5:30 – 8:30am Get up and head straight to a local trail to exercise for an hour. Come home, take care of the dogs, get ready for the day. Have my first cup of coffee. Review my schedule for the day and list of goals I want to accomplish in my Emily Ley planner. Anyone else obsessed with planners? Ya'll, I use two but am thinking about adding a third. I LOVE planners 🙂   
Pack up my laptop, planner, notebooks and head to a local coffee shop.
8:45 – 3:00pm On Mondays I meet up with two other female entrepreneurs. We are all working on different things, but we get together to hold each other accountable, share our goals for the week and brainstorm. I cannot stress enough how wonderful it is to work alongside other people who have similar goals.  I'm hoping we make this into a 2x a week thing.
Two or three afternoons a week I have chat sessions with fellow entrepreneurs and bloggers who want to grow their business. These are 30 minute conversations, but take me an extra 30 minutes to prep for. You can learn more here. They are super exciting and I look forward to these chats. I always feel more ambitious after hanging up the phone because the people I chat with are so excited!
In general, I go to a coffee shop 3x a week on my own using the same time frame. I can only handle being at home for so long, and crave the energy and vibe coffee shops can provide.
Or totally change it up with Option B
5:30am Get up, take care of dogs, have first cup of coffee
6:30 – 12:30pm Grab everything and go to coffee shop. Totally a dry shampoo type of morning (ladies, how much do we love dry shampoo haha) This is for when I'm feeling really motivated, have a huge to do list and know I can get a lot done in the early hours.
1:00 – 3:00pm Go home and workout at my gym because it's usually empty during the day. Shower, do stuff around my home, etc.
Below is the same regardless if I do option A or option B
3:00 – 5:00pm By mid afternoon, my brain shuts down. I get very little done work wise in the afternoons. I used to fight it and make myself power through afternoons, but I realized that was a total waste of my time. I start to get easily distracted and restless sitting still.
Instead, if I need to run errands, I try to go during this time. If it's not too hot, I grab the dogs and we hit up the park. I bring a big blanket, find a shady spot under a tree and then kick it for a couple hours. My dogs like to people watch and love being outside. Sometimes I'll answer emails on my phone, but usually I'll use my time to brainstorm a list of blog post ideas, newsletter ideas, things to research, etc.
5:00 – 8:00pm Home! Dinner and time to decompress some. Lately I've been getting more active in my community with entrepreneur events and social events not related to work. If the dogs and I haven't been to the park already, we'll hit it up in the evening.
8:00 – 10:00pm  I almost always doing some work in the evenings. I tend to get really focused during this time and am really productive. I like to blast through and clear my inbox, check off those last couple things on my to-do list and make my schedule for the next day.
Of course, the exception is on Monday nights when the Bachelor or Bachelorette is on- then the laptop gets shut down 🙂 I also find myself spending way too much time on AirBnB looking at amazing deals for places I want to visit.
Over the past couple of years, I have stayed at a handful of AirBnB's and saved a ton of money. I've been able to rent an entire house, condo and apartment instead of a room at a hotel. If you want to stay at an AirBnb, here's a coupon for $40 off your first stay anywhere! Can you tell I'm longing to travel and work from anywhere?!
10:00 to 10:30pm Bedtime! This has been a big adjustment for me. I have always found myself going to bed more around midnight, but for the past few months I've embraced going to bed earlier. My morning hours are my best hours, so making the switch has really helped me.
What I work on each day
My daily routine of going through the motions is pretty much the same. Of course, there are some days where I might take a VaCa day or switch things up, but I really like the layout of my work day. Planning my day is still a learning process.
Everything I do during the day is done in batches. I try to do as much batch work as possible. I like being able to focus on one task and get it done, before moving onto the next task on my list.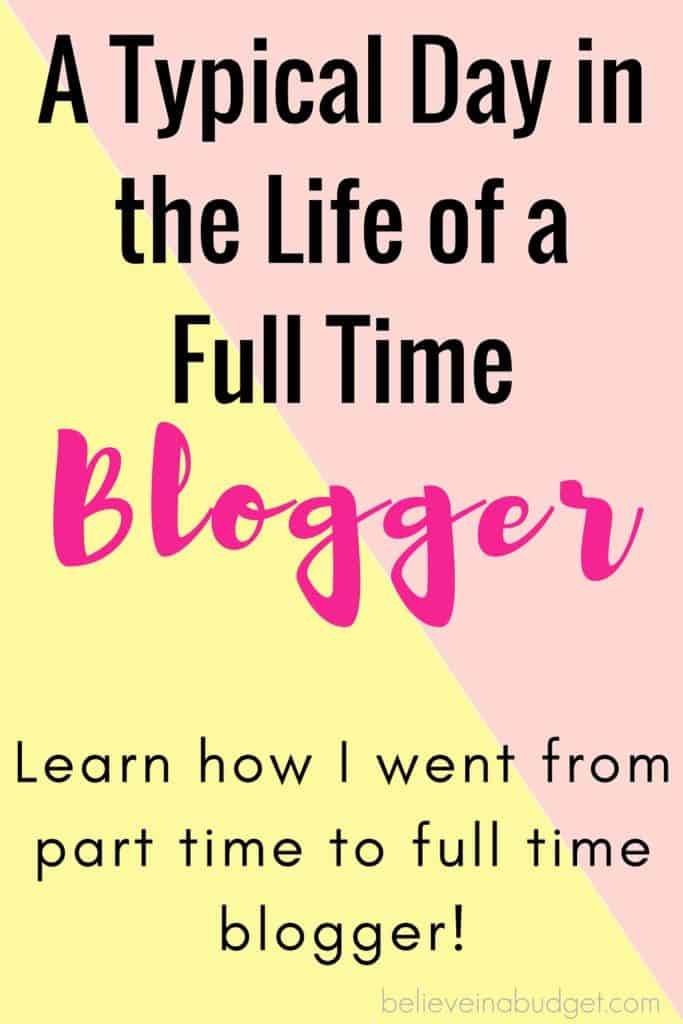 My Pinterest management company eats up about 2.5 – 3 days a week.
This time is spent creating images for clients, reviewing Pinterest accounts, and scheduling pins via Tailwind. For my blog, I also try to work on things in batches. This means scheduling dedicated time to work on:
optimizing my posts to earn more income (via affiliate links, spons. posts, ads, etc.)
adding more Pinterest images (so much easier to make these all at once in Canva)
writing my newsletters (I usually send out one a week with ConvertKit)
working with companies for sponsored posts/social media promotion
planning my quarterly strategies, and a strategy for the rest of the year (this is constantly changing and being updated)
blog post idea and writing blog posts (now that I cut back on writing posts to 1 blog post every 1-2 weeks, this has really helped me reduce my stress level.)
setting up a system for my VA for my Pinterest management company
In addition to batch work, I always spend time each day:
checking in on Twitter, to see who's retweeted my posts so I can send a thanks and interact with everyone
checking my blog for new comments – I always respond to everyone and love when people leave comments!
checking in on my private Facebook group for my newsletter subscribers
checking in on Instagram to see what everyone else is up to. I haven't had enough time lately to read all the blogs I normally do because I'm short on time. If I can like or comment on an Instagram post, I'm happy and still feel connected to my fellow bloggers.
Since I published my side hustle course and my Pinterest Presence course, things have calmed down. The writing and editing process for both of these products was intense, so I spent most of my weekends and free time in the writing zone to get everything done.
I recently co-hosted my first webinar with Allison from AllisonLindstrom.com, which was some additional work to my regular schedule. We hosted the webinar on a Saturday, which was perfect as things can be a little crazy during the workweek.
Since it was my first time prepping for the webinar (and Allison did almost all of the heavy lifting), I probably spend around an extra 10 hours to do the slides, prep work, a dry run and the webinar itself.
The best part about taking on additional work, like writing a book or prepping for a webinar, is that I already have a really good schedule in place for my blogging work week. I don't feel the stress to take on additional work and really like the challenge of being pushed to do something new!
I was recently invited to my local Chamber of Commerce to attend a workshop for entrepreneurs. During the panel session, what really stuck out for me was that it's ok for me to continue to continue to pivot my business.
I'm still learning as I go – and probably will be for a while – and my brand and business is still growing. Somedays I think I have it all figured out, and then something happens (generally positive) and I have to make adjustments, look at things with a fresh perspective and make smart decisions. All of this is about pivoting my business and being ready for change.
The best part about everything is that I have the freedom to work when I want, how I want and where I want. Being a full time blogger and business owner has allowed me so many opportunities and it's such an exciting time.
✕
Free 7 Day Blogging Course via Email
Join thousands that have learned how to start and grow a profitable blog. Sign up for free tips below!
If you have thought about becoming a freelancer or starting your own business, here's a few posts to help you get started:
Do you have any questions about what it's like to be a full time blogger?