Blogging is truly a labor of love. It takes time to build your blog up and that's because there are so many different things to do as a blogger from writing content and promoting it to building up your social media accounts and increasing traffic. Once you start a blog, it's easy to feel overwhelmed.
If you want to know where to start to get the best ROI with your blog, I'd highly recommend getting on a schedule first and time blocking. Time blocking is when you set aside a specific amount of time to complete a specific task.
If you're working full-time already, going to school, even working from inside the home, your schedule is probably already hectic.
You don't have time to work on your blog for 8 hours per day. If you want to be a successful blogger and make money with your blog, you don't have to spend 80 hours per week or even 30 working on things.
Here's an overview of things to prioritize when working on your blog along with how to manage your time as a blogger.
Related posts:
✕
Free 7 Day Blogging Course via Email
Join thousands that have learned how to start and grow a profitable blog. Sign up for free tips below!
Focus First on Tasks That Will Get You the Most ROI
Get clear on what you want to achieve with your blog. What's your message? On the surface, you likely want to do these things in the beginning stages:
Get consistent readers and traffic
Help others with your content
Basically, that's it! You can't make money with your blog from ads, affiliate, or products if you don't do these 3 things first so this where your focus should go when you first start blogging.
Decide How to Manage Your Time as a Blogger
Before you start time blocking your schedule, it's important to determine when you actually want to work on your blog. Can you do some blogging before work or after work? What about during your lunch break or on weekends?
New bloggers should commit to spending at least 7 to 10 hours on their blog per week.
I know this may sound like a lot, but if you only want to blog during the weekday, that breaks up to just 2 hours per day.
You can also mix it up and blog a few days out of the week and for a few hours on weekends.
It's your choice and this is why I love blogging because it's so flexible.
Do you already spend at least two hours per day on social media and watching T.V.? Cut out those tasks and use the time to work in your blog instead.
Once you decide on when you'll be time blocking your blogging schedule, it's time to make it official.
Write your schedule down in a planner or notebook. You can also use a notebook to map out what you're going to produce during the time. Dry erase boards can also be a great visual reminder to focus on your daily goals as well.
If you want to grow your blog, you need to be focused on results and not simply the tasks. That said, focus on what you want to accomplish in the time that you work on your blog.
Do you want to have a new blog post completed along with two Pinterest images by the end of a 3-hour time block? Write it down and hold yourself accountable.
Chunk Your Tasks
Another thing that I love about time blocking is that it allows you to chunk your tasks.
When I first started this blog, I committed to writing 3 times per week for the first year to provide readers with consistent content. This was also a great way to build authority, improve my writing and find my own voice for the blog.
I also chose to get started with Pinterest over using Twitter and Facebook. This post helped me grow my traffic fast.
How to Batch Your Writing
When it comes to writing blog posts, there's no correct number of posts you should put up in a given week or month. The key is to make it consistent whether you're posting once bi-weekly or 3 times per week.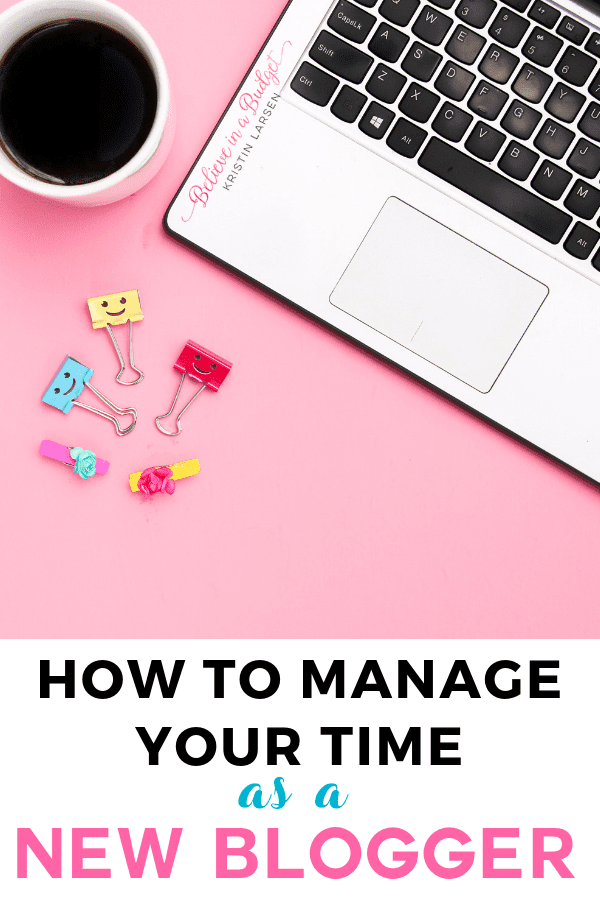 If you're just starting out and want to provide your readers with plenty to choose from when they visit your blog, you may want to start publishing at least once or twice a week in the beginning.
When you're time blocking, you can actually batch your writing so you're not spending the entire week working on blog posts.
I find it easier to write blog posts with an outline, so you can map out your content a month ahead with a content calendar.
Simply use Google Docs or a spreadsheet to organize all your blog post ideas and when you want them to go live.
Aim to do this at least once a month and feel free to add new blog post ideas as you get them.
Next, you can choose a specific day of the week to outline your posts.
Depending on how often you publish, you can possibly outline 2 to 4 blog posts in an hour.
The following day, start writing your blog posts. You can batch them based on the time you have and your level of motivation.
Let's say you're wanting to publish 3 times per week. If you have outlines prepared, you can sit down and draft out all three blog posts in one day, or you can break it up and write two on one day and the final one the next day.
Focus on writing a basic first draft initially, then you can edit as needed.
How to Batch Social Media Tasks
Blogging is not just all about writing posts. In order to grow your blog and make an impact, you need people to read it. The best way to promote your blog posts and get new readers fast is by using social media.
I recommend starting with one social media platform at a time. It's best to get really good at using one platform then go to the next instead of trying to get on all the social platforms at once.
Plus, some of them may not even be best for growing your blog. Initially, I chose to use Pinterest to build my blog's traffic and it was one of the best decisions I could have made. You don't need a lot of followers on Pinterest to get great results. Instead, you just need to create awesome pins and share them with the right people on the platform.
The first month I started using Pinterest, I was able to grow my monthly pageviews from 5,000 to 40,000. In just a few months, I had increased my pageviews to 200,000 per month.
Using Pinterest will help you target the right audience and get them to click on your blog posts. If your content is exceptional and helpful, they can easily become regular readers.
Check out Pinterest Presence to help you grow your blog's traffic
Here are a few things you'll want to do in order to improve the Pinterest presence for your blog.
Using Pinterest Analytics to research who your audience is. You can learn what topics our viewers are researching – use this information to your advantage!
Create high-quality vertical pins and even try creating multiple pins per blog post to test them out. Don't know how to design the perfect Pinterest pin? Check out my Pinterest image templates.
Join group boards that you can pin to regularly to ensure that your pins are getting seen by more people.
Schedule pins in Tailwind to save time and still grow your Pinterest and blog traffic.
When it comes to scheduling pins, Tailwind is the best tool for this. You'll want to pin several times per day, 7 days per week. Most people don't have time to do this manually which is why you need to use a scheduler.
Tailwind is the perfect tool to time block your Pinterest posting because you can schedule out pins for the entire week or the entire month if you want to. Tailwind has smart scheduling features allowing you to pin automatically during the best times of the day.
If you can block out 1 to 2 hours per week to schedule pins on Tailwind, you can grow your blog's traffic significantly over time.
Consider scheduling posts on other social media platforms as well. If you use Twitter, Facebook or Instagram, you can use sites like Later or Hootsuite to schedule posts in advance. Facebook actually has it's own built-in scheduling tool so you can schedule posts from your page as far in advance as you'd like.
Sample Schedule on How to Manage Your Time as a Blogger
While everyone's schedule is different, here's an example on how to manage your time on a daily basis.
Monday – Fill calendar with blog post ideas for the month and outline the first 2 blog posts – 1 hour. Here's over 120+ ideas for free.
Tuesday – Write 2 blog posts – 2-3 hours
Wednesday – Edit both blog posts and create social media images – 1.5 hours
Thursday – Draft email newsletter and promote blog posts on social platforms – 1.5 hours. I recommend ConvertKit and Constant Contact if you haven't picked an email host.
Friday – Catch up/work ahead day (answer emails, send guest post pitches, research, schedule Pinterest, etc.) –  2-3 hours
As you can see, this simple time blocking blog schedule allows you to get a lot done in just 10 hours per week with time to spare.
All you need to do is set aside time to blog, put it on your calendar, and honor the commitment to yourself.
Overall time blocking your blogging tasks can save you time, and reduce stress and overwhelm so you can start to get better results with your blog.
✕
Free 7 Day Blogging Course via Email
Join thousands that have learned how to start and grow a profitable blog. Sign up for free tips below!
What is your top priority right now when it comes to blogging?