How to start a blog
Learning how to start a blog was one of the best decisions I've ever made. In less than a year, I was able to quit my full time job and make a full time living from my blog.
Learning how to start a blog allows me to make thousands of dollars online!
Please note, this post was updated on January 28th, 2019 with more tips. Click here to grab your free domain name and follow the instructions below.
First, grab this free guide on 7 Ways to Boost Your Blog Income Overnight to increase your income this year!
Blogging has also allowed me so many opportunities. With this tutorial, you will:
Different blog idea topics that you can blog about
Learn how to start a blog with step-by-steps instructions
Hosting plans and options
Get a FREE domain name with your hosting plan
Bonus tips on what to do after you start a blog
How to make money blogging
When I started out as a new blogger, I made over $13,000 blogging in 6 months. This was all in my spare time, too!
Today, I make over $10,000 online each month. In my first year of blogging full time, I made around $90,000. You can read all my blog income reports here.
I also recommend reading the free workbook called 7 Ways to Boost Your Blog Income Overnight.
If I can learn how to start a blog and make it successful, you can too!
There are so many reasons why you should start a blog.
For me, I wanted to share my experience trying to make extra money. I also wanted to start a blog to have a creative outlet, interact with other people and document my journey.
If you are really passionate about something and want to share your passion with others, blogging is definitely for you!
Here are some blog ideas and website ideas:
Recipes
Mama / family life
#Adulting
Crafts / DIY / How-to steps
Book clubs and reviews
Healthy living and/or weight loss
Career / lifestyle
Homeschool / family life
Fashion
Personal Finance
Makeup and hair
Faith / religion / inspiration
Reviews/ direct sales – LuLaRoe, Scentsy, Essential Oils, R+F, Mary Kay
Vintage finds / picking
Product Sample Reviews
Pets – accessories, bakery, etc.
Wedding / wedding planning / event planning
Shopping
Service based, such as accounting, bookkeeping, real estate
Brick and mortar shops
Self care
Garden / homestead
Coupons / save money
Car / woodworking / building / 'shop' hobbies
Student / college / Greek life
Home decor
Everyday lifestyle
Mental well being / self help / depression / chronic illness
Travel / RV / Vacation
You can also start a blog and share your experiences in multiple ways. You don't have to be a writer either!
Here are different ways you can use your blog as a creative outlet:
Write blog posts
Create videos
Record audio, like a podcast
Have other bloggers write guest posts on your site
Partner with brands to share videos and content
Before we get to all the exciting things about blogging, first you can to learn how to start a blog.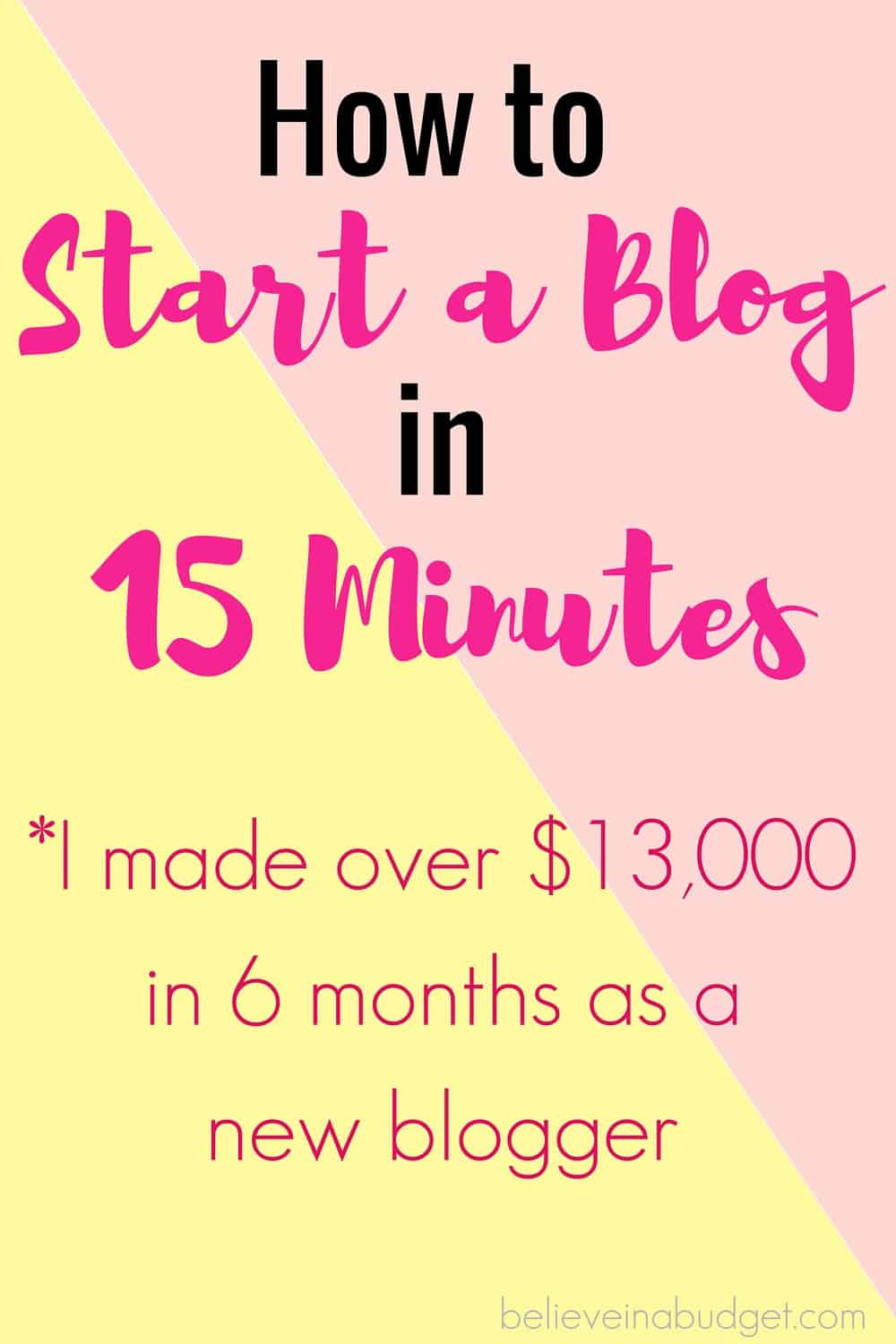 When I first learned how to start a blog, I had a full time job.
I would wake up early and try to blog a little bit before work.
Mornings are my most productive time of the day, so every morning I made sure to wake up early and do a little bit.
Everyone works differently though, you might be better working in the afternoons, or in the evening!
Before I knew it, I started making a small amount of income.
After four months of blogging, I received my first paycheck for $60. This was so exciting!
A few months later, my hard work and persistence blogging started to pay off.
In a six month period, each month my income would increase.
When I added up how much money I made, I realized that in six months I had made around $13,000.
What I like best about blogging is that I can make money without having to have a part time job.
I get to work my own hours at a time that's convenient for me. I have made more money blogging compared to having a part time retail job.
How to start a blog today
Today I want to share how easy it is to start a WordPress blog on Bluehost. Starting a blog with Bluehost is really cheap and only costs a few dollars a month.
After a lot of research, Bluehost was the perfect choice for my blog's hosting! This is the web hosting company I used to start my blog and I recommend them.
If you purchase a web hosting package through my referral link, I will earn a commission (at no extra cost to you). I've also partnered with Bluehost to get a low special price for Believe In A Budget readers. Yippee!
Over the past few years, my blog has really grown.
It took some time in the beginning, but today I have more than 200,000+ pageviews each month.
Even as my traffic grew, I stayed with the same plan on Bluehost (I picked the cheapest plan!).
Because of my great relationship with Bluehost, I have been able to provide an even lower rate that you can't find anywhere else.
I am also going to show you how to get a FREE domain name for an entire year when you purchase a 12 month Bluehost plan. This is a great deal and saves you money!

Pick your plan
I would start with the basic plan. You can always upgrade later if you want, but I have never found that to be necessary.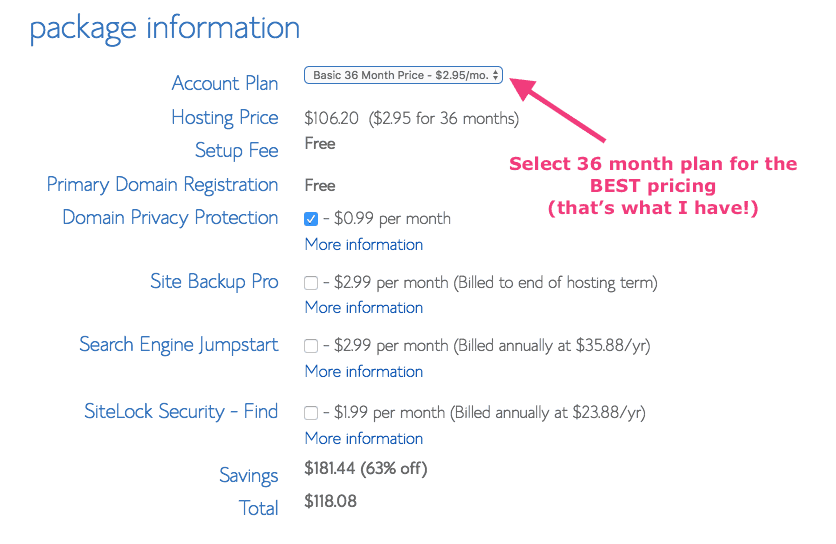 Select your domain name
Picking the name of your domain (AKA your blog, online shop or website) is important, so put some thought into your name.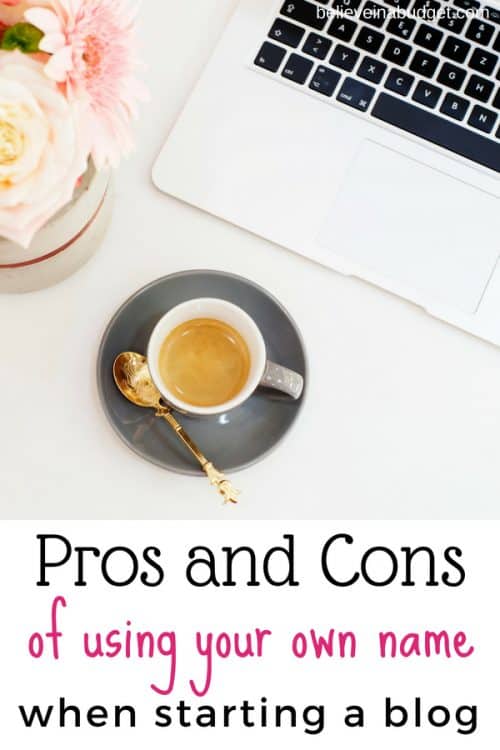 When I decided to start my blog, I made a list of possible names for my website.
I wanted the name to relate to saving money, getting out of debt and budgeting, so Believe In A Budget made sense and was the winner.
It's also easy to remember and has a good ring to it!
Over time, I also decided that I wanted to purchase a domain using my personal name, Kristin Larsen. So I purchased the domain name KristinLarsen.com and now own that as well.
Even though I am not currently using this domain (Believe In A Budget is my main blog), I like knowing I own my own name online 🙂
I get many questions from readers asking what should they name their website – their personal name or a brand name?
I think it really depends on what is best for you and your situation.
One advantage to using your name for your website is because you have the flexibility to create and write about anything.
When selecting a name like Believe In A Budget, this is a more specific niche. It wouldn't make sense to write about a ton of other hobbies outside of personal finance.
If you are having trouble deciding what to name your blog, here's a list of things to remember:
You can always change the name of your blog or website down the road and it's really easy to do!
If you feel comfortable using your own name, this can really help you create a brand around YOU! It's great to own your own name online!
If you want to build a brand but don't want to be center stage, pick a phrase to use as a blog name. This is where I felt most comfortable as I'm fairly private 😉
When selecting your own name, you have free range to do anything with your website.
When selecting a phrase for your blog, website, shop, etc., you need to select a title that will align with your vision!
Using my link, Bluehost is giving all my clients a FREE domain name for 1 year when you sign up for a 12 month hosting plan. This is a really good value, so make sure you take advantage of it.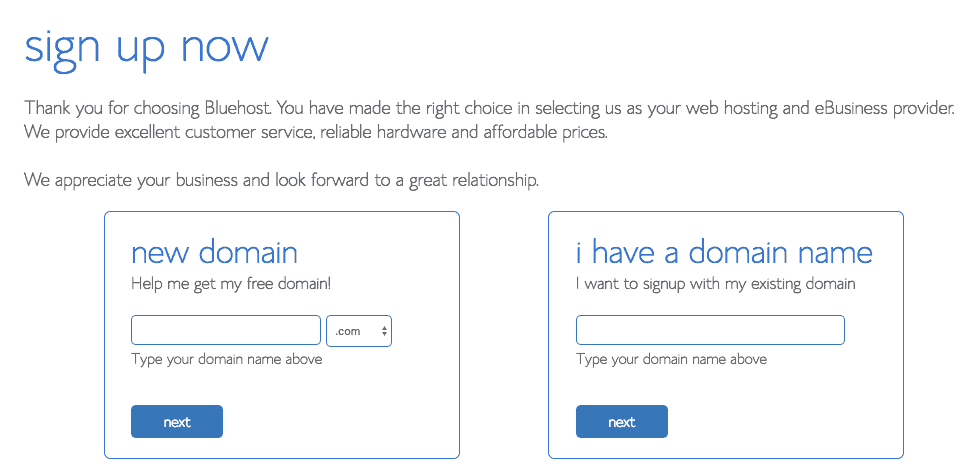 Choose your plan
To get the best price, select the 36 month plan (this is the plan I have!).
This will save you money and you don't have to renew your blog every year. I have heard horror stories from other bloggers that forgot to renew and their blog expired. Don't make this mistake!
If you aren't sure if you want 36 months, at least select the 12 month plan.
This way you can test the waters, so to speak, and still get the FREE domain name. Once you have checked out, it's time to install WordPress.
Bluehost makes it super easy to create a WordPress blog. They do most of the work for you!
In Bluehost, click on the hosting tab and then the cpanel tab. Scroll down and select Install WordPress.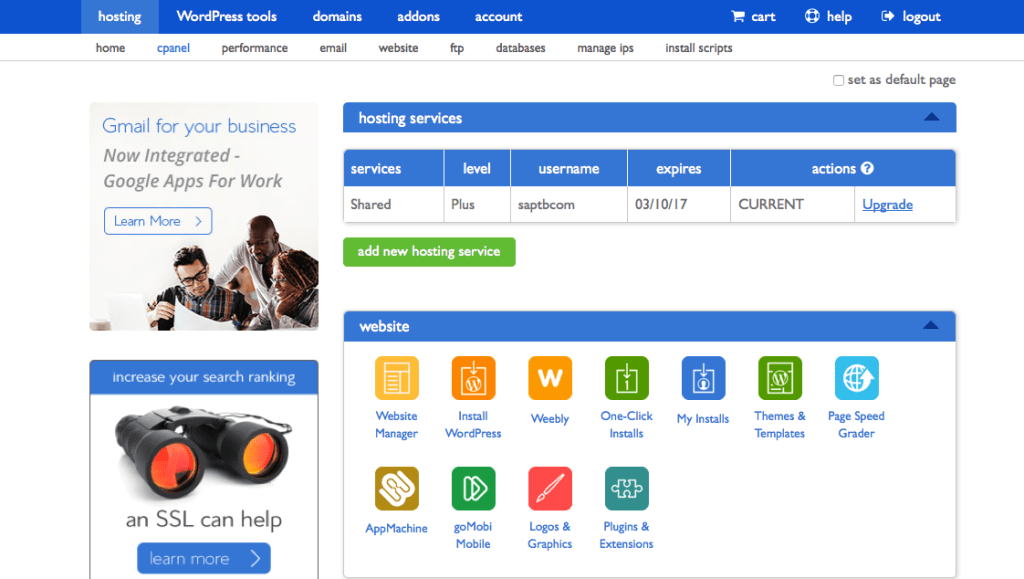 Let's connect WordPress and Bluehost together!
This is a great, free feature Bluehost provides you with and it's really easy to set up.
Just enter your domain name into the space and click 'log into WordPress'.
Everything will then be installed for you. How easy is that?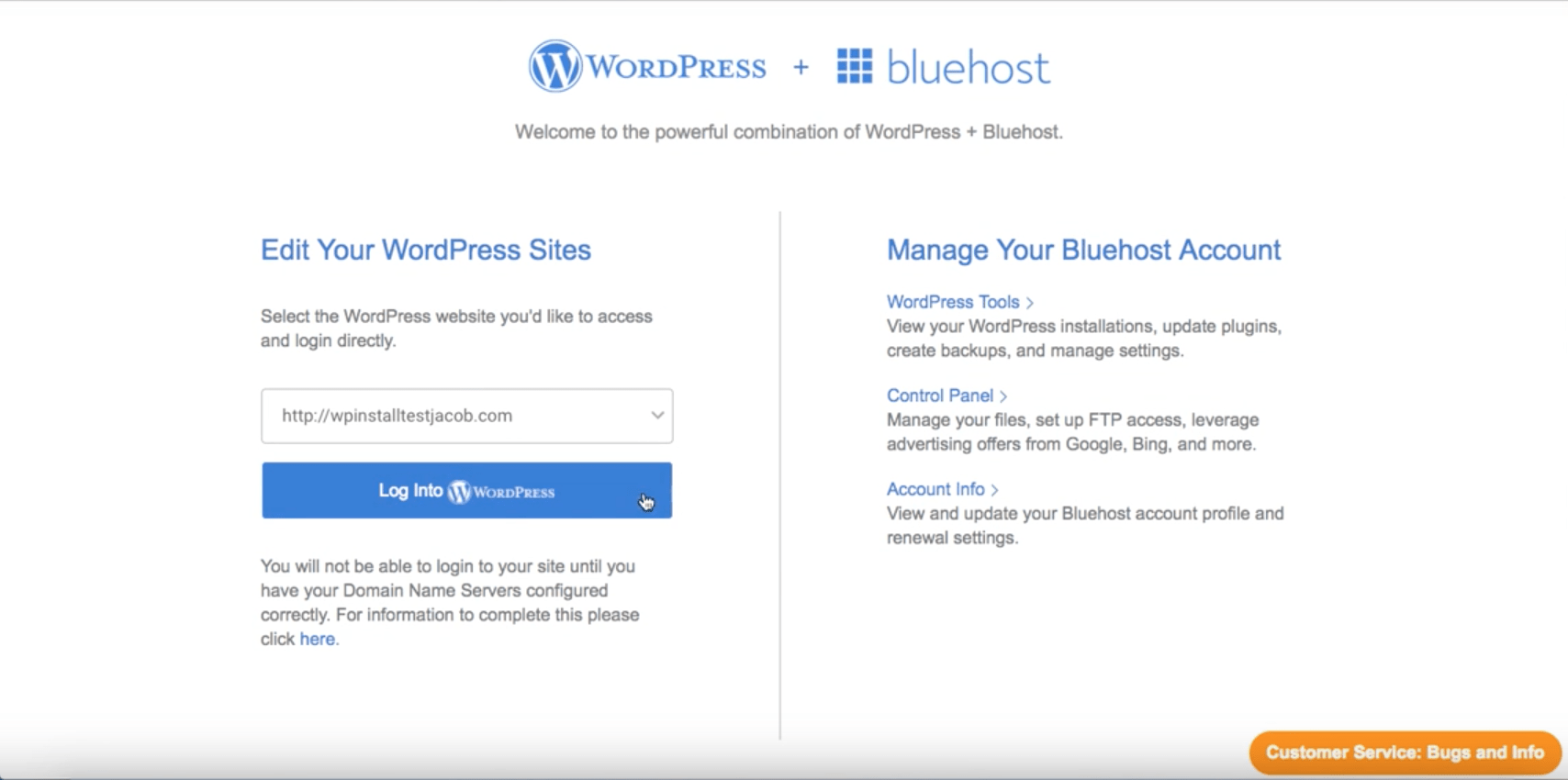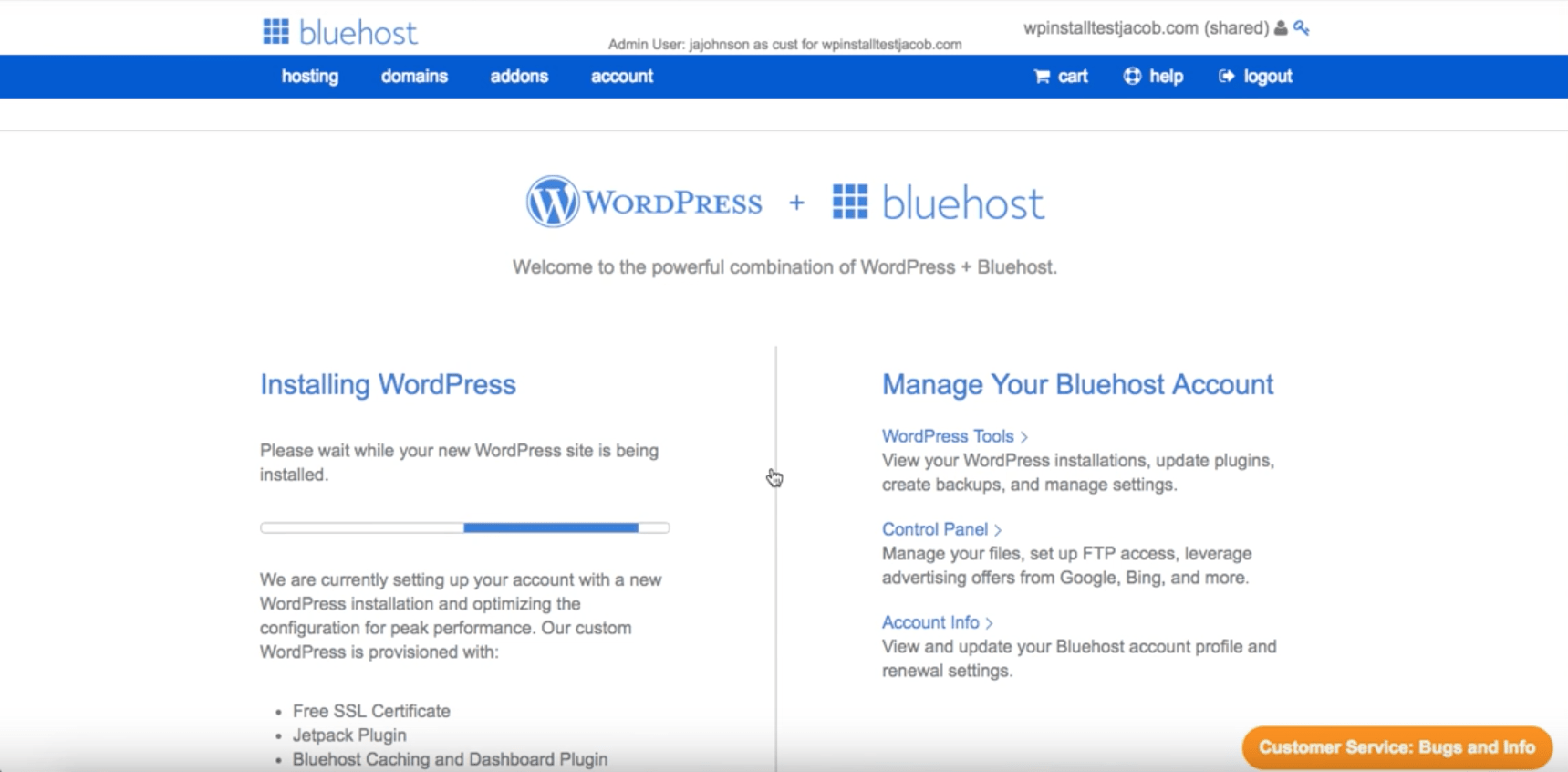 Here's what the process looks like as WordPress.org is getting installed and what it looks like when it's complete.


CONGRATS! You did it! 
Once WordPress and Bluehost are done connecting everything, you will be taken to your brand new WordPress page. Yippee!
Keep reading below so you know what to do after you start a blog for more tips and next steps!

Blog income posts
Here are some of of my online income reports from blogging. As you can see, I did not get rich overnight.
I have worked hard though to make this blog a success. In the early days, blogging was my side hustle.
As time went on, I was able to spend more and more time online. This is reflected in my income reports below.
The more time I  was able to learn about blogging, the more income I made.
I have been writing income report for over three years! In each monthly report, I share how I made money online:
As you can see, my income has increased year by year!
Part of the reason my income has increased so much is because I continue to learn as much as I can about working online and how to implement different strategies.
My income comes from a variety of sources, such as ad income, affiliate income, freelancing and offering products and courses.
So you learned how to start a blog – what's next?
You can sign up for my free blogging guide and tips that is delivered via email. It includes a series of action taking tips, advice, how-to's and more. It's super helpful if you are new to blogging!
Now that you have a WordPress blog, you will be able to design it. Here's exactly what I did to launch this blog.
First, grab all these blogging freebies: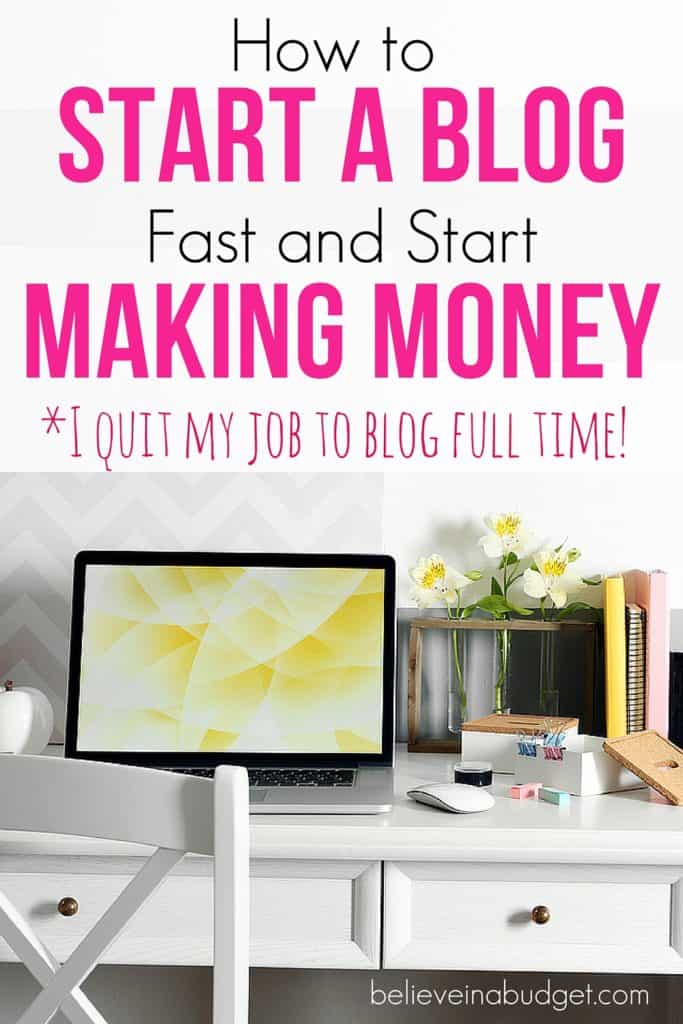 Next you will need a your theme.
This is my favorite part because this is where you get to decide what you want your website or blog to look like!
I recommend the Genesis theme for your website.
It's basically the bones of your website.
It's the preferred theme by businesses and bloggers and super Google friendly.
Next, you have something called a child theme, which is like a layer that goes on top of your Genesis theme.
I used a free theme called Sugar & Spice when I first got started to save money.
If you can afford to buy a theme, check out Restored 316 Designs.
They have a lot of feminine themes, food blogger themes, fashion blogger themes and more!
This blog previously used the Delightful Pro theme and the Darling theme!
I also recommend Code + Coconut for themes.
If you want to monetize your website with ads, get signed up with Google Adsense and Media Net. These are your basic ad companies!
Once you start to get more page views each month, look for a private ad company like AdThrive!
If you want to start searching for sponsored post opportunities, I have had the best luck with Cooperatize.
If you want to find brands to work with and start utilizing affiliates to earn income, sign up with iGain,  Flex Offers and Shareasale. These companies are like the middle man between you and brands/products.
For your newsletter and email subscriber list, ConvertKit is a great options. Mailchimp is also a great free option if you are just getting started!
How to use Pinterest to help your blog
One of the best ways to grow your blog is with Pinterest.
Since starting my blog, Pinterest has become my number one method for getting traffic to my blog. More traffic means more income!
Here's a few posts on how to increase your blog traffic:
Be sure to visit my Resources page for even more blogging tips.
How to Start a Blog
In less than a year, I was able to quit my full time job and make a full time living from my blog. Learn more!
I hope these tips have helped you to learn how to start a blog with Bluehost and create A Blog today!