These next few weeks will certainly fly by due to the rush and excitement of the holidays.
This is my favorite time of year to rev up my efforts to reach my personal and financial goals so I can wind down, relax, and spend time with family before bringing in the new year on a positive note.
Speaking of financial goals, how to plan to handle Christmas expenses? Paying for gifts with credit cards seems to be the norm and I almost wish it wasn't.
While credit cards can be great for earning rewards, according to Nerdwallet, at least ⅓ of Americans admit to using a credit card to pay for Christmas gifts knowing that won't be able to pay off the balance immediately.
Credit cards come with a hefty interest rate so when you don't pay the balance off in full each month, whatever rewards or cash back you earn end up getting canceled out by your debt.
How to Start a Blog - Free Tips and Guide
In less than a year, I was able to quit my full time job and make a full time living from my blog. Learn more!
The best solution is to have a debt-free Christmas by paying for everything in cash. While I'm a big fan of saving up for Christmas expenses all year-round, there is still time to make some extra money if you don't have much saved up.
Check out these 6+ ideas for earning an extra $500 before Christmas.
Sell Your Old Clothes
Seriously, don't underestimate the clothing you have hanging up in your closet. Fall is one of the best times to do a clothing sweep and get rid of any items you no longer wear or use.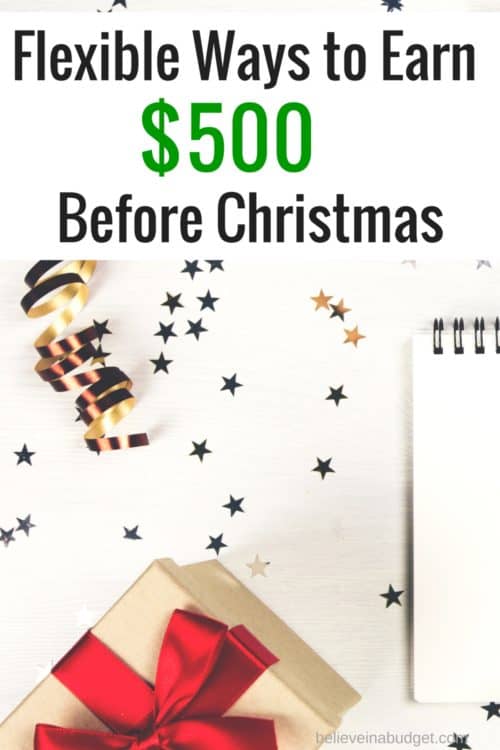 Unless you have a very minimalist wardrobe, you'll probably find quite a few things you can get rid of.
Try selling these items for a profit.
You can try local buy-back resale stores in your area like Plato's Closet or Clothes Mentor, but I'd suggest listing your clothes online to get the most bang for your buck.
Try creating listings on sites like eBay, Amazon, Swap, and Poshmark which is an app where you can sell used women's clothing.
I like selling clothing online because you have more control and can often set your own prices vs. accepting a lowball offer from a resale shop that is looking to make a profit on their end.
If you have shoes, coats, or name brand items you wish to sell, be sure to price them higher so you can make more money.
Also, don't just stop at your clothing.
If you collect outerwear, sweaters, jeans, and gently worn shoes from everyone in your household and sell the items online, you can easily work your way up to earning $500 while decluttering your home at the same time.
Do Some Brand Ambassador Work
If you like interacting with people and don't mind standing on your feet for a few hours, you might like the idea of becoming a brand ambassador.
If you've ever gone to an event or a store and stopped by a booth to try a food sample, taste some wine, or watch a short demonstration, you probably interacted with a brand ambassador before.
Marketing companies and actual brands hire people to do this to represent their company and products in a positive light.
The best thing about these jobs is there are plenty of them available during the holiday season and they pay really well.
Expect to make around $20/hr working a flexible shift as a contractor. Training materials are often provided but it's very easy to learn how to be successful.
Also, good brand ambassador jobs are plenty and will pay you a flat hourly rate and not commission so the pressure to sell is not that high.
Offer Consulting Services
Have any special skills or areas of expertise? Consider offering consulting services to help others meet a goal or learn a process that is new to them.
You can literally consult about anything whether it's marketing, gardening, design, small business, fashion, and even Pinterest.
When you have a specialized skill set and valuable knowledge and experience to offer, you can set your own rates for people to pick your brain and learn from you.
For example, if you set a flat hourly rate of $50 for your service, you'd only need to work 10 hours to earn $500 before Christmas. I got my start as a Pinterest virtual assistant 🙂
Freelance
Freelancing is still one of the most flexible ways to make a sizable amount of extra money fast and it created a solid source of income for me when I started blogging.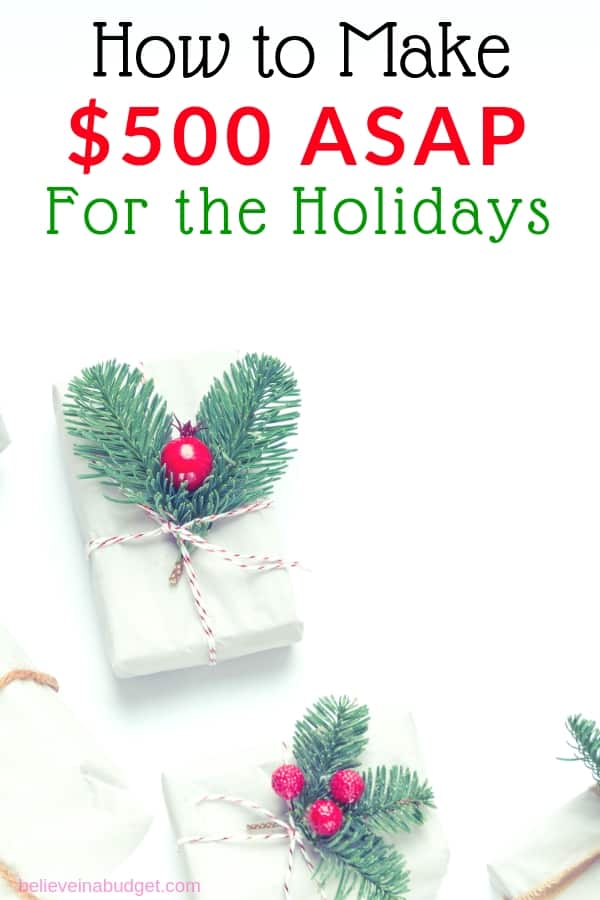 While consultants get paid to teach people about certain skills and processes, freelancers get paid to actually do the work.
Again, rely on your interest and skill set when determining which services you want to freelance.
Some of the most common and profitable freelance services include writing, virtual assistant work, graphic design, programming, editing, and social media.
If you're interested in learning how to freelance, check out 30 Days or Less to Virtual Assistant Success!
Start Driving For Lyft or Uber
If you have your own car, you can make some serious cash driving for Uber or Lyft. Drivers are paid per trip but tend to earn $20-$25 per hour on average.
The best part is that the app handles everything for you in terms of communicating with riders and collecting payment.
You can log into the app and work whenever you have free time and there are weekly bonuses depending on how many trips you do.
Uber and Lyft also offer new driver bonuses so you can easily earn a few extra hundred dollars in addition to the trips you complete during the first few weeks. Sign up here to drive with Uber!
Dog Walk or Pet Sit
One of my favorite side hustles of all time (and most lucrative) was walking dogs and pet sitting.
If you love animals, consider signing up with a company like Rover. It's free and you get to set your own rates, and work as much as you want.
The funds are deposited into your bank account weekly. It's a really safe service to use, as both you and your clients are screened ahead of time.
I averaged around $20 – $30 per dog walk, and made between $60 – $100 petsitting per day and overnight. The great thing is you get to pick what services you want to offer!
You can learn more about Rover here!
Stack Your Earnings
Who said you can only earn money for Christmas one way? There is power in diversifying your income and creating multiple streams of income that are flexible.
You can sign up for a few survey sites and earn $50 in your spare time over the next few weeks. Earn $50 on Swagbucks, earn $30 on Ibotta, and earn $30 on Nielsen Computer and Mobile Panel.
You can also take advantage of bank bonus offers and earn $150 – $300 just by switching your bank account to Capital One 360 (and it's free!)
Try walking dogs in your area for $20 per walk. At that rate, you'd only need to walk 5 dogs to earn $100.
If you want to earn money by simply sharing your opinion, sign up for a panel study or focus group to review and test out products.
Related posts:
How I Made Over $4,500 from Side Hustles
Make Money Fast and On Your Own Terms
When you throw a few holiday parties, extra time spent at work, and other responsibilities into the mix, your available time to side hustle can greatly diminish.
There are only a few weeks left until Christmas, but you can still earn at least an extra $500 on your own terms to help you cover holiday expenses.
All of these extra income ideas just scratched the surface but they are super flexible meaning you can make money without having to work set hours.
Don't forget to diversify your income and stack your earnings by doing a variety of different things to maximize income.
Create Digital Products 
If you love graphic design and want to start creating passive income, you could start selling digital printables on Etsy.
The digital products can be anything from grocery lists to planner inserts.
Once you've made the printable, you won't have to work on it again, thus earning passive income from every sale that you make.
Learn more about selling Etsy printables here. 
Do you try to earn extra income for the holidays?