There are so many reasons people who are scared to start a blog. Each week I receive emails from readers telling me how he or she really wants to start a blog, but they are holding back for different reasons.
Some people are worried about what to write about. Others are worried no one will read their blog. I know what everyone is feeling – I've been there too!
First, grab this free guide on 7 Ways to Boost Your Blog Income Overnight to increase your income this year!
Why are you scared to start a blog?
Please note, this post was originally published in 2016. Today it's been updated as of October 1, 2018! 
For whatever reason, many people are just flat out nervous about making that leap into blogging.
Seriously, so many of us are scared to start a blog. I totally get it. I've been there.
I know what it's like to read and admire blog after blog, want to start my own, but then I let fear hold me back.
I know people that have spent months envisioning what they want to want to write about, the perfect blog name, and what the blog design should look like.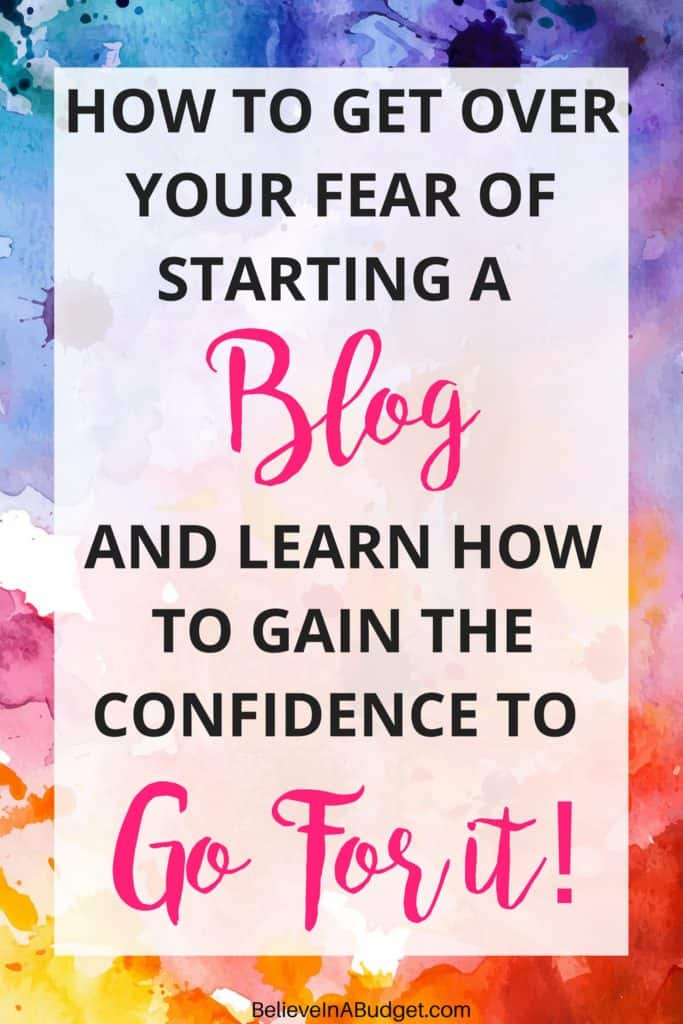 Many people waste a lot of time standing by the sidelines watching and not doing.
I was nervous too. It took me months to leave my first comment on a blog post lol.
After leaving a comment, I would over-analyze what I wrote.
Did my comment make sense? Did I write too much? Too little?
Clearly, I had issues and lacked confidence I'm shy, so it was a big step for me to leave my first comment on someone's blog!
Over time, I got a little more confident and started leaving more comments on my favorite blogs and blog posts.
Some of the bloggers even wrote me back in the comments section!
I felt a personal connection, even if it was online, and really felt like I was joining a community where people were really nice, friendly and welcoming.
I started to recognize other bloggers online and expanded my list of blogs to read.
I gravitated towards a wide range of bloggers and subjects. I didn't focus on one niche in particular and enjoyed reading about a ton of different things.
I was totally enamored with the blogging life. I literally couldn't handle how excited I was to read one of my favorite blogger's new blog posts to see what he or she would write.
One night, after reading a handful of blog posts, I made the decision to go for it. I was ready to start a blog! I had been teetering back and forth about starting one and the biggest obstacle for myself was if I could commit.
In about 30 seconds, I talked to myself, psyched myself up and pretty much decided that if I was going to start a blog, I was going to go all in. No more being scared to start a blog!
Well, that decision to start a blog changed my life.
Today, I am a full time blogger. The journey from there to here wasn't overly easy or hard, but it was a process that just involved time and commitment.
I'm probably just like you when it comes to starting a blog. I knew very little when I got started. I was on a budget, so I had to figure out a lot of things on my own.
But within my first year of blogging I was able to walk away from my full time job and successfully blog and freelance full time.
Everyone's idea of success is different. My goal was always to leave my day job, have my own schedule and be my own boss.
This might not be your goal, and that's totally fine!
Maybe your goal is to have a creative outlet where you can write down your thoughts, or share your art or craft and just have fun!
Your goal might include bringing in a part time blog income in addition to your full time job. Or maybe you only want to blog part time and not have a full time job.
It's also important to remember the amount of income one person needs to bring in each month might be more or less than what you need to make online each month.
There is no right or wrong way when it comes to blogging!
The bottom line is that until you try and decide to start a blog, you'll never know the potential that you have.
Here's a few things that have happened since I decided to start a blog three years ago:
I started blogging in my spare time while working a full time job.
It took about a month or so for me to realize I needed to treat my blog like a business, not a hobby. This meant creating a blog schedule and a list of things to learn and work on!
My first blog income report was roughly three months after I started blogging and was for a little over $60 – and it was awesome!
I gave my notice to my full time job within 9 months of starting a blog.
After one year of blogging (and only 9 months of being serious about it) I walked away from my full time job and moved back across the country to a city I've always wanted to live in (what's up Nashville!).
In my first month of blogging full time, my blog income report was for over $3,600.
In my first year of blogging, which was 90% of the time while I was at my full time job, I made a little under $14,000.
I'm not a six figure blogger (although one day that would be awesome), but I'm getting close to becoming a five figure blogger. Last month was my ninth month freelancing full time, and I made over $9,000 blogging online.
UPDATE 12/16/16: I am a five figure a month blogger! Learn how I made over $10,000 per month in this income report.
UPDATE 2017: I made over $90,000 in 2016. This was only in my first year of blogging full time! 
UPDATE 2018: I made $290,000 in 2017. This was only in my second year of blogging full time!
UPDATE 2019: I made $510,000 in 2018. This was only in my third year of blogging full time!
What I'm trying to show you is that with some time, dedication and work, you can be as successful as you want to be! As much as I would love to be an overnight success story (is that still even a thing?) I'm still winning!
I started with a plan, stuck with it, and am now doing exactly what I want to do. What really makes me excited is that the sky's the limit! There's no cap in my salary, I can continue to grow and earn more money.
On the downside, have I made any mistakes? Yup, a ton, ha!
Sometimes I look back at my blog and realize that I missed opportunities to grow faster, monetize faster, etc.
It's easy to beat myself up about this. But then I realize that I pretty much figured out most of this stuff on my own, didn't have much help, and just did it my way. I chalk it all up to it being a learning experience.
I'm glad I took the time to figure out a lot of things on my own. I know what works, what doesn't work and how to fix things.
5 reasons you're tempted but too scared to start a blog
By now, I hope you are inching closer to pulling the trigger to want to start a blog.
Below are a few reasons you are thisclose to get started. I have literally have had all the feels from this list below. And I know that if I've experienced these emotions, then you probably have too.
You need a creative outlet
Blogging can be very therapeutic. It's your own space where you can write what you want and express your feelings.
Maybe you want to start a blog about something you are passionate about, even if it has nothing to do with your real life.
Go for it! 
Or maybe you want to use your experience in real life and become an expert in your subject online. You can do that too!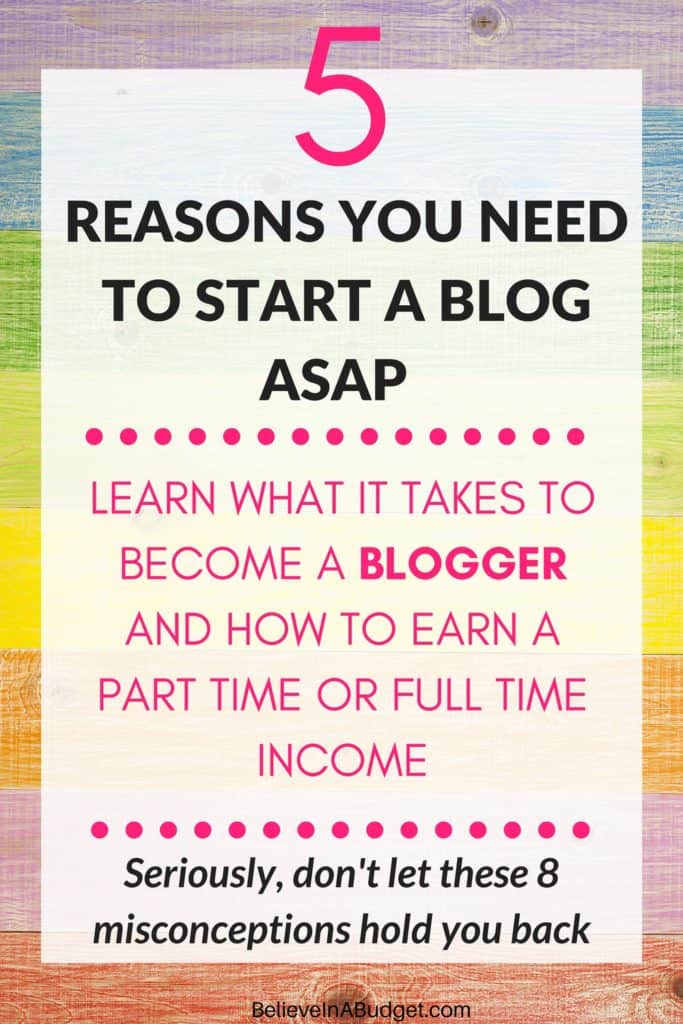 Maybe you hate writing. You can use your blog to upload photos or make an online scrapbook.
If you are a visual person, you can create pretty graphics, art, or more online.
Your blog gives your the freedom to make it whatever you want it to be!
If you worry about privacy, you can choose to write anonymously.
You can go by your first name or even make up your own name if you choose to.
Fyi, when I first started a blog, I only went by first name.
It took me about over a year before I was ready to use my last name and show a picture of myself!
You want to share your experience
So many people start a blog to share his or her journey. This could be related to anything! Here's a few ideas you could share on your blog:
Weight loss journey, healthy living or goal oriented (ex. running a marathon)
Document your travels
Mama / lifestyle
Wedding planning
Newlyweds, new baby family life
Reviews
Career oriented
Fashion, trends or makeup
General lifestyle and day to day living
Home decor, DIY, crafts
Personal finance (investing, getting out of debt, saving money)
Vacation planning
and more…. (I could seriously list ideas all day, ha!)
Accountability
When I started blogging, I made sure I was always accountable. I blogged regularly.
Whether you want to blog three times a week or twice a month, just stick to the same schedule.
This will help you develop a routine. Remember, you need to think of your blog as a part time job and not a hobby if you plan to grow it or monetize it.
One way to stay accountable is to create a Mastermind group of fellow bloggers who are similar to you. Ya'll don't have to all blog about the same thing!
But creating a mastermind group can help you reach your goals, work on projects and stick to a blogging schedule. The easiest way to start a closed  group is in Facebook!
Have a sense of community
Online blogging communities are the best! People are super nice, friendly and welcoming. When I started my blog, there were a few fellow bloggers in my niche that were just launching their blogs as well.
Like high school or college graduation, I consider us to be in the same "class of" blogging newbies that started together.
I reach out to these girls all the time and it's amazing to see all of our progress. Every single one of us has succeeded and it's totally nuts to see the progress we have all made in a year or so.
When you start out blogging, you will probably encounter a similar situation. Try to connect with fellow bloggers in your niche. You can encourage each other and ask each other questions.
When I first started blogging, I would get super excited when a fellow blogger would leave a comment on one of my blog posts (I still do!).
By far, comments are my favorite part of blogging. It's the best way to interact with someone else that just gets me.
Make money
There's absolutely nothing wrong with wanting to make money from blogging. You shouldn't feel guilty about this.
I knew when I started my blog that my goal was to share my story, provide valuable information that could hopefully help other people and monetize my blog.
As long as you are not scamming anyone, hurting anyone, or providing false information, you have every right to earn a living from your website! Do NOT feel guilty about this!
There are so many ways to make money from your blog. Here's a few ways you can make money blogging:
Sponsored posts
Brand partnerships
Affiliate links
Products, courses, books, subscriptions, etc.
Podcasts
Freelancing (add a 'hire me' page to your site)
and more!
✕
Free 7 Day Blogging Course via Email
Join thousands that have learned how to start and grow a profitable blog. Sign up for free tips below!
Here are eight popular reasons why most people are scared to start a blog:
What's holding you back? Are these the reasons you are scared to start a blog? 
I recommend taking this free quiz to help you even further learn about your deep fears. I took this quiz myself and the results were really surprising. What I thought was bothering me wasn't the case at all!
Lack of time
I get it. You're busy. You're tired. You're trying to do a million things at once.
But if you want to be successful, you need to carve some time out of your schedule and fit it in. In the beginning stages of blogging, I was working a full time job, felt like I was never home and when I was home, I was busy taking care of everyone and everything BUT me.
When I shared my schedule of what it's like to be a part time blogger, my blog post raised a few eyebrows.
My schedule was crazy, but I knew I had to work hard to make blogging work. I changed around my schedule and figured out a time that works best for me.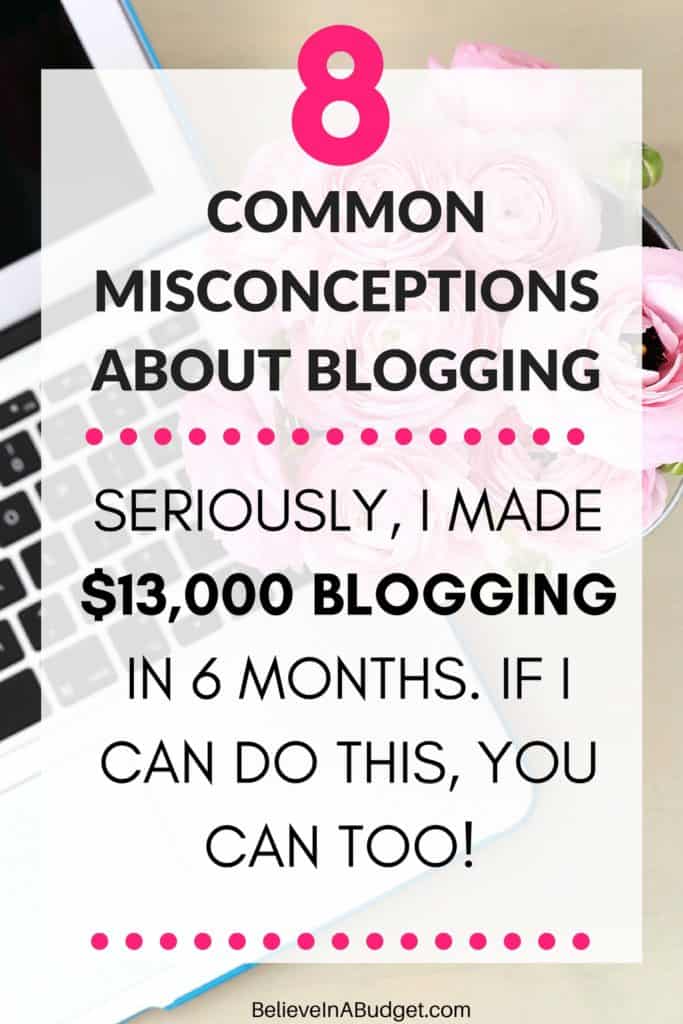 The best thing you can do is look at your schedule and find a time that you can spend solely working on your blog.
Maybe this is early in the morning, on your lunch break at work, or late at night after everyone's gone to bed.
Next you need to stick to a schedule. Treat this blog like a part time job, not a hobby.
If you want to be successful, you need to put in the work. Try to commit to the same schedule and get into a routine.
If you have to change things up, that's ok too!
You're shy and lack confidence
Ok, so this is mostly geared towards me and might not apply to you, ha!
Don't worry – the online community is really welcoming. Don't believe me? When you decide to start your blog, send me an email and I will make sure to say hi 🙂
No one is going to leave mean comments on one of your blog posts. Everyone pretty much helps each other out and is very friendly. It's ok to be shy.
Just be nice and people will be nice back 🙂
You're not sure what you want to write about
Don't stress this. The good thing is you can write about anything you want. You get to be the boss and CEO! Chances are, when you start your blog, you are going to think you want to write about something in particular.
There's a chance you might get tired of writing about the same subject, so you can change it up! Pick a few things to blog about until you get a feel for what you like and don't like to write about.
You're still in the "research" stage
Stop researching and just start a blog. You could seriously do research forever. I know, trust me. I'm all about the prep work. I probably over prepare. At some point, you just have to stop talking about it and just go for it.
Your topic has already been written about
This is such a common fear and myth when it comes to wanting to start a blog.
Yes, there is a really good chance someone in the blogging world has written about the exact same things you want to blog about. There are probably a lot of bloggers who've written about your subject.
Who cares! The biggest thing to remember is that no one has told your story. You make the story personal in your own unique voice. Readers will want to get to know you and your point of view.
You're doing a lot of work to get ready for your "launch" date
I think it's great to have a launch date and a date you want your blog to go live.
With this being said, you don't need to go overboard. There's a really good chance that very few people will read your brand new blog right away.
There's nothing wrong with writing a couple blog posts and just hitting publish. You don't need to have a ton of blog posts written to launch. Just enjoy the excitement of publishing posts!
Fear of failing
There is a pretty slim chance you are going to nail the blogging thing right away. But that doesn't mean you are failing.
In my first six of month of blogging, I changed my theme twice, changed up what I wanted to write about and re-did my sidebar a million times.
I didn't know anything about how to monetize my blog except to use Google AdSense (today I'm with AdThrive) I also had to go back and update all my images to be vertical as opposed to horizontal as that became a trend on Pinterest.
But I don't really consider this failing and you shouldn't either. It's all a learning process. We all start at the same place – as newbies who are experiencing a lot of hands-on training.
You're worried no one will read your blog
Ha, no one read my blog in the beginning! I was ok with that.
This is literally one of the silliest fears to have if you're scared to start a blog.
I was trying to find my writing style, had horrible images and hated my sidebar. I was all over the place with my blog posts. It's probably better that no one read my blog in the beginning, ha!
Don't be too scared about the numbers in the beginning.
Focus on creating amazing content that other people will want to read. When it's time to focus on gaining traffic and growing your blog, there's several different blog strategies you can implement.
How to gain that extra boost of confidence to start a blog
Are you getting totally pumped to start a blog or what?! Blogging has changed my life.
I'm not kidding when I say that every morning when I wake up, I get super excited to start my day.
There's a million things I want to accomplish, blogging friends to chat with and I don't even feel like what I'm doing is even working.
I am super happy with this blogging life and really want other people to experience what I experience every day!
Here's a few things I feel and experience on a daily basis that you might too:
Relax – you totally got this
You're smart. You're excited. You've done your research. You know what you want to write about.
Readers want to know you story. Stop sweating the small stuff, don't let fear take over and think positive. You can totally start a blog and do this!
Start with low expectations and enjoy the highs
Anything can happen when it comes to blogging. If you put in the time, it won't even feel like work.
While it's important to have goals and dreams, take it one day at a time in the beginning. Create rough goals and an outline of where you envision yourself.
Make an editorial calendar and decide what you want to write about each month, what you want to accomplish in three months, six months, etc.
It's ok not to be perfect
Ugh, who wants to be perfect? Embrace your flaws and go with it.
If you get my weekly newsletter, you guys know that I have no problem telling you what my weaknesses are and what I'm struggling with at the moment. I like to keep it real and appreciate it when you guys email me back to tell me you are going through the same thing.
It's your blog – you can do anything you want with it
Yup. You blog is your own personal space – you can make it anything you want it to be. Don't be worried about trying to be like someone else. You have your own unique style and your own thoughts – so just own it.
Your audience is there and waiting for you to tell your story
There's an audience for every blog out there. There are people out there who are too shy to start a blog.
They are searching for a blog to read that they can relate to and fit in with. And that is you!
People want to hear your story and get your take on things. There's an entire community online that is going to be able to relate to what you are writing.
How to start a blog
If you are ready to start a blog, this tutorial will walk you through the exact steps on how to start a blog.
I used Bluehost for my blog and it's pretty cheap, which is good if you are just getting started.
You also get a FREE domain name, which is awesome when you are just starting out and are trying to save money.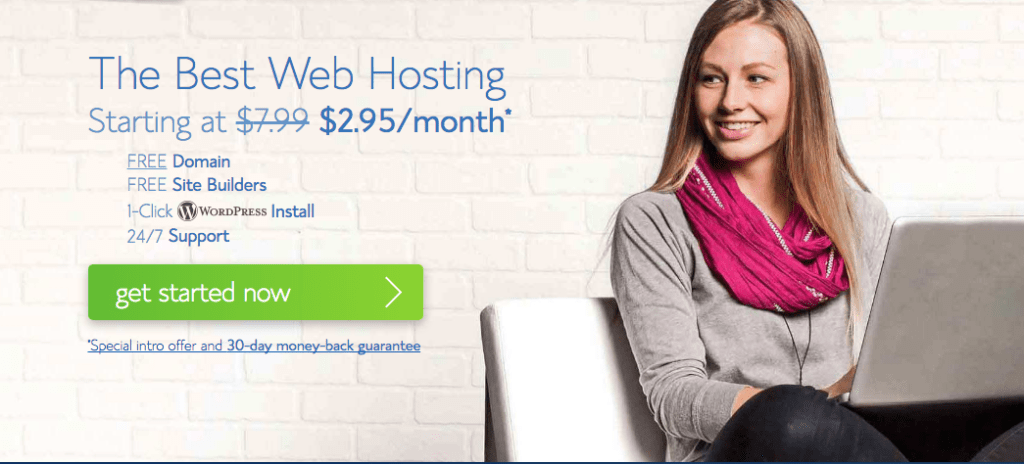 In the blogging tutorial, I guide you step-by-step on how to select your free domain name, pick your hosting site and how to install WordPress. You should be able to do everything pretty quickly, in roughly 10-15 minutes tops.
After you install your blog, make sure you read all the way to the bottom of the tutorial. I share what to do next, including:
how to pick a theme
how to start a newsletter
how to monetize your website so you can make money
resource page full of tons of free resources I use for my blog
Along with getting hosting for your blog, you'll also need a theme. While you can get them for free through WordPress, I prefer these:
Take the next step
Start a blog today! Don't wait a day longer – I KNOW you have the confidence to do this!
Freebies to help grow your blog
These are my favorite free downloads that I used to help grow my blog. I recommend downloading them and saving them in a folder on your laptop, or printing them out and putting them in a binder:
I'm really excited for you!
Blogging has opened up so many opportunities for me.
Every day is a great day when I know I can control my own schedule.
I get excited to check my emails from readers, I love to read fellow blog posts from my favorite bloggers and am enjoying this fun and crazy journey. Good luck, you got this!
✕
Free 7 Day Blogging Course via Email
Join thousands that have learned how to start and grow a profitable blog. Sign up for free tips below!