Here are five easy ways you can make money today. Most of these side hustles can be performed at a time that's convenient for you. There is no need to get a second job!
This year I am determined to get the best deals and best prices when I do any kind of shopping. One way I am doing this is always being prepared before I shop. Being prepared can save a lot of money! There is no reason to pay full price if you don't have to.
Over the past two years, I have managed to actually make money when it comes to shopping! It's easier than you think and only takes a short amount of planning. If you struggle with using coupons, this post is for you! You don't have to be an expert at couponing or spend a lot of time searching for the best prices.
Almost every tip below will help you make money today, simply by going to the grocery store, running errands or shopping online!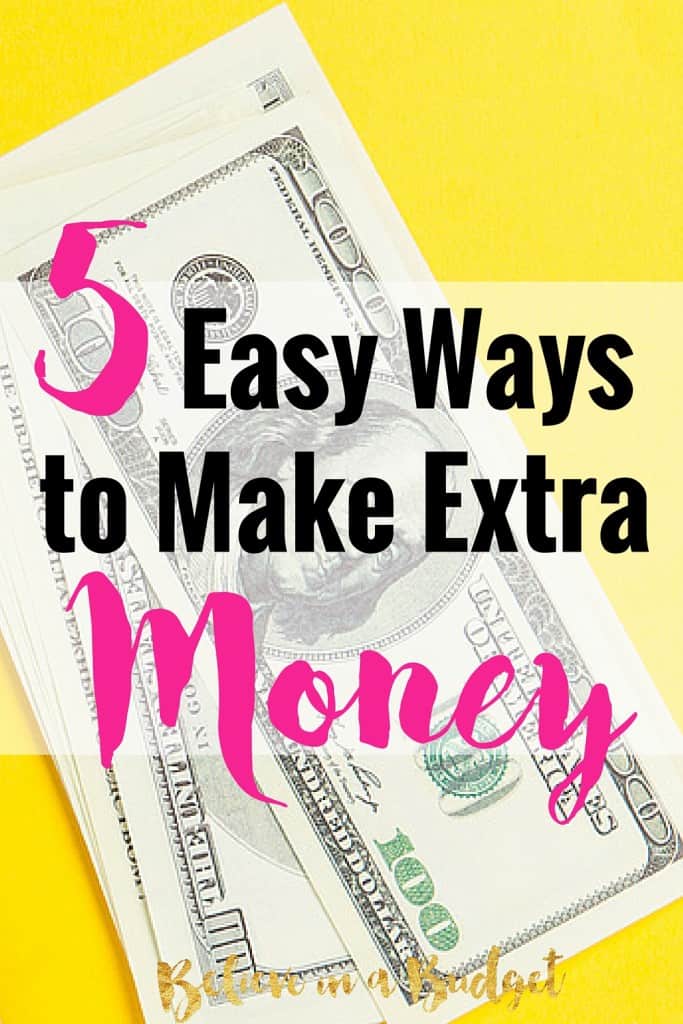 Here are 5 easy ways to make money today!
Take surveys from home
Here is a list of my favorite surveys that pay really well per survey. I usually do these surveys if I'm bored or watching TV.
Never miss another blog post. Sign up now!
We promise to never spam or sell your email address
Ebates
Ebates is my absolute favorite company to use when I'm shopping online. Hello, it's free money!
Every time I shop online, I always start at Ebates. They have a list of all the places you normally shop at and you just click on the store you want to visit online. After you make a purchase, you earn a percentage of the sale! They literally give you cash back on every purchase you make. The money is then deposited into your PayPal account.
I've made over $700 from shopping online and earning cash back. Join Ebates here!
Ibotta
Ibotta is another free cell phone app. You use it after you go grocery shopping and use your receipt. It's basically a rebate app, so you can earn anywhere from 50 cents to $5 off everything you buy.
My favorite part about this app is that it's not always brand specific, like a lot of coupons are. So you'll be able to scan "any brand of bread" for 50 cents off, etc. If you do coupon – you can STILL use Ibotta and get a rebate. For the diehard couponers out there, this will often result in getting an item for FREE. Crazy, right?
If you want to grab the Ibotta app and start making money off your grocery receipts, click here to get started. You will receive a bonus of $10 when you scan your first item!
TIP: You can reuse the same item you purchased and earned "kicks" on from Shopkick with Ibotta. They are two totally separate apps, so you can still get a rebate. In the example above, when I bought the bag of coffee, I also was able to get a $1 rebate from Ibotta! Click here to get $10 cash back when you sign up with Ibotta.
Start a blog
While it won't happen overnight, starting a blog completely changed my life.
In six months as a new blogger, I made $13,000. Today I make over $10,000 a MONTH from blogging. That's crazy!
This tutorial will teach you how to start a blog with step by step instructions, blogging ideas and how to make money blogging.
After you start your blog and need some extra blogging help, you can also use these free resources:
Side hustle your skill-set on TAKL
If you are handy, like to shop and have a vehicle, one of these side hustles might work for you!
TAKL – You can sign up for free to be a provider and offer various home-related services. You can clean houses, assemble furniture, help someone move, haul away debris, help someone pack – the list is endless.
Simply download the app and enter the code 03F89. This will allow you to sign up for FREE. Then select provider and fill out the form!
Unlike Craigslist, the entire platform is moderated and everyone is given a background check. Each service is assigned a price, so no haggling with the customer. All money is handled through the app and you get paid within a couple days of completing your TAKL task. It's amazing! Sign up here to get started.
Start saving, even if it's only a few dollars a week
Whether you want to start an emergency fund or a vacation fund, you have to start setting some money aside. If you're like most people and struggle with saving, you should consider using Digit.
I've just started using this free program and love it. Digit lets you save money each week from your checking account. What I really like about Digit is that it analyzes my bank account and determines how much I can really save per week. Some weeks it might be $5 and other times it might be $20.
You don't have to worry about overdraft and can contribute less or more if you need to, and can pause it for 30 days at a time. This is really helpful if you need to take a break from saving incase of an emergency!
As of now, I don't know an easier way to save money! You can learn more about Digit here.
Never miss another blog post. Sign up now!
We promise to never spam or sell your email address
When you make extra money, do you save it or spend it?