What a difference a year makes! I created Believe In A Budget with no clue what I was doing, ha! 
Now a year later, I'm still here and am ready to share what I learned in my first year of blogging.
I started blogging because I was so inspired by other bloggers. While I was struggling to get out of credit card debt (which is now gone thanks to side hustling), I wasn't comfortable talking about my finances person to person.
After doing an online search about getting out of debt, I discovered the personal finance world where others were documenting and sharing their getting out of debt journey.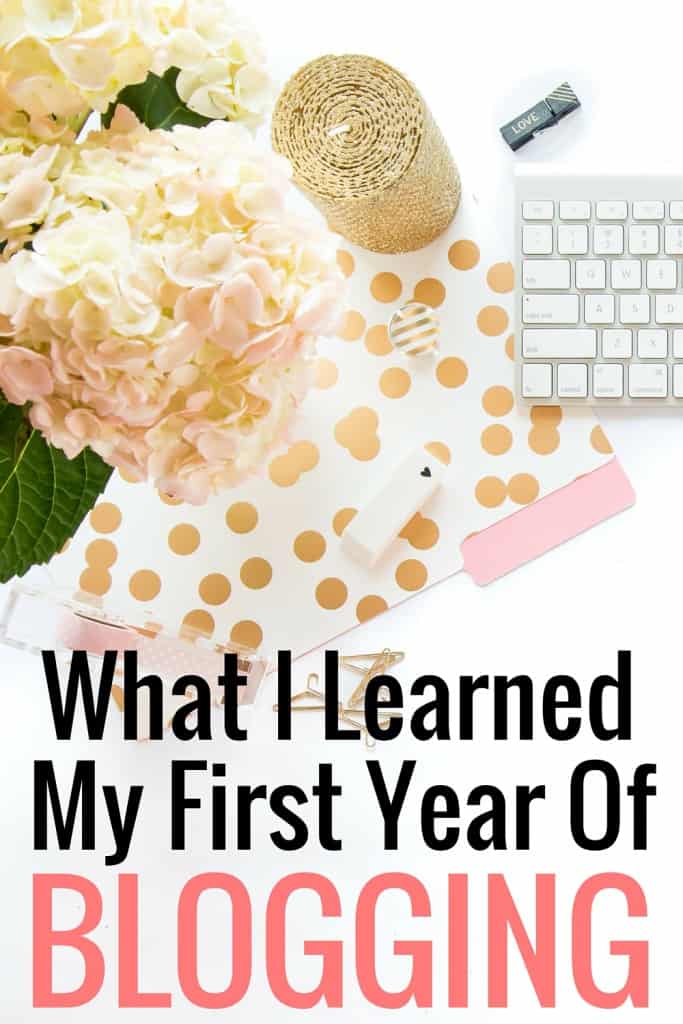 After months of working up the nerve and confidence, I made the decision to purchase this domain last fall, but didn't start my blog until January 2015.
I had no idea how to even go about this, so I spent a ridiculous amount of time researching the order to do things in, where to purchase from, etc.
I also had to figure out how to use my small budget to get everything.
Guess what – starting a blog is not that expensive! 
If you are thinking about starting a blog, this tutorial will help you start a blog today. You'll also get a FREE domain name for a year!
I was able to quit my job and blog full time, all within my first year of blogging. I am really glad I took a chance and started a blog!
I invested a small amount of money to start my blog using Bluehost, and I made $13,000 in 6 months of blogging. That's the best return of investment ever! 
I'm really glad about every decision I made about starting a blog.
The BEST decision was choosing to self-host my website on WordPress.org.
The biggest difference is I own and control everything on my own when I self-host. You don't want to use Blogger or something.
If you do use a website like this, you can still switch over to a self-hosting platform!
I also chose Bluehost to host my website. They have the best prices out of anyone (trust me, I searched around forever) and are regarded as one of the top hosting companies around.
Since I purchased my hosting program with them, I also got to buy the domain name for free, which saved me around $15.
Along with getting hosting for your blog, you'll also need a theme. While you can get them for free through WordPress, I prefer these:
How to Start a Blog - Free Tips and Guide
In less than a year, I was able to quit my full time job and make a full time living from my blog. Learn more!
The first thing I did after starting my blog
I started writing.
I wrote a blog post three days a week, every single week. I never took a break and really got into a habit of writing.
This habit was really a great foundation for my future work ethic!
If you are going to do any work on your blog, make sure it's writing first.
Here are a few resources you can download for free to help you accelerate your blogging journey:
Instead of instant gratification and looking for a quick buck, I decided to continue on and hope my efforts would pay off down the road.
Fast forward to present day, and I just published my latest online income report for over $3,500 in the month of October.
Over the past year, I've made nearly $13,000 in online income. What's unbelievable is that I wouldn't have made any of this if I hadn't started a blog.
One of the best ways I grew my blog was from developing a smart Pinterest strategy. Pinterest has been the best way I've grown my blog in terms of traffic and numbers!
Page Views
For anyone who is just starting out on their blogging journey and is feeling discouraged – it gets better.
Blogging consistently, writing great content and creating awesome images are just some of the things you can do to grow your audience.
I was so excited that someone was clicking on my posts. I was averaging around 7 page views a day in the very beginning when I started out, and I was thrilled!
Check out my traffic in October 2015
Over the past month, I've been averaging around 1,728 daily page views. I get just as stressed excited today as I did when I first started.

My favorite part of blogging is when readers leave a comment.
It's my favorite way of connecting within the community and I answer every comment that someone takes the time to leave.
Sometimes it takes me a few days, but I feel it's really important to reply.
Here is my main source of traffic:
As you can see, Pinterest is my number one source for referral traffic.

Pinterest has been such a game changer for my blog. It's my favorite platform to use at ANY level of blogging.
If you are a beginner just starting out, I recommend using Pinterest to grow your blog. It's the fastest way to grow your blog!
My top three things I've learned in my first year of blogging:
Be consistent
It doesn't matter what day of the week you publish your post as long as you are publishing content regularly.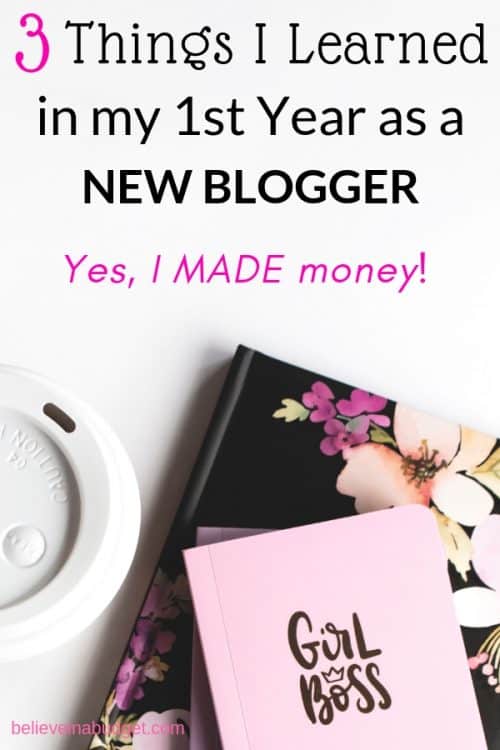 Whether you publish a post daily or once a week, stick with it.
If you plan on going on vacation or will be too busy to post, work ahead of schedule or have a guest post.
As a reader, I get sad when one of my bloggers goes MIA (I know, life happens) so I try to make sure there is always a plan in place.
Be nice
As I've already mentioned, if someone takes the time to leave a comment on a post, I'm going to reply.
Even if it's a quick thanks, I'm appreciative.
If the reader is a fellow blogger, hop on over to his or her blog, read a post and leave a comment.
We are all in this together and should support each other. I've built some great online friendships this way.
Keep hustling
Blogging is an ongoing process. There is always something to do, something to improve and something to fix.
I have a million ideas, but there isn't enough time in the day to get everything done.
I have a running list of things to fix on the backend of the blog, products I want to create and posts I want to write.
If I've learned anything, it's blogging is a part time or full time job, but the payoff can be as big as I want it to be.
A couple of recent firsts:
If you follow me on Instagram, I finally signed up for a PO Box.
It was only $33 for 6 months, what a deal! 
Now my business will look more official, and I can properly send out newsletters without people knowing where I live (yes, you have to include a physical address on a newsletter or you will get in big, big trouble).
Speaking of newsletters, I sent out my first newsletter today. If you want to join in on the fun, make sure you sign up below. (For fellow bloggers out there looking to start email marketing, check out my Constant Contact review!)
I'll be sharing tips and resources in the newsletters that you won't find on this blog! 
✕
Free 7 Day Blogging Course via Email
Join thousands that have learned how to start and grow a profitable blog. Sign up for free tips below!
I've learned so much in my first year of blogging. Do you have any questions for me?