When I first started blogging, I was at a complete loss at where to start or what to research. After a lot of trial and error, I have a set list of tools and resources that I use. I use every item on this list.
When it comes to budgeting, I'm all about finding the best deals and savings without giving up quality.
This list has been pretty solid for quite some time. However, if I find something new and start to use it on a regular basis, it is added to this list.
---
Web Domain and Hosting
BlueHost I started with a 12 month hosting plan and just renewed my plan for three years for Believe In a Budget! To save money, you should go with the 36 month plan! If you want to test the waters, start with the 12 month plan.  To learn how to start a blog, read my tutorial here.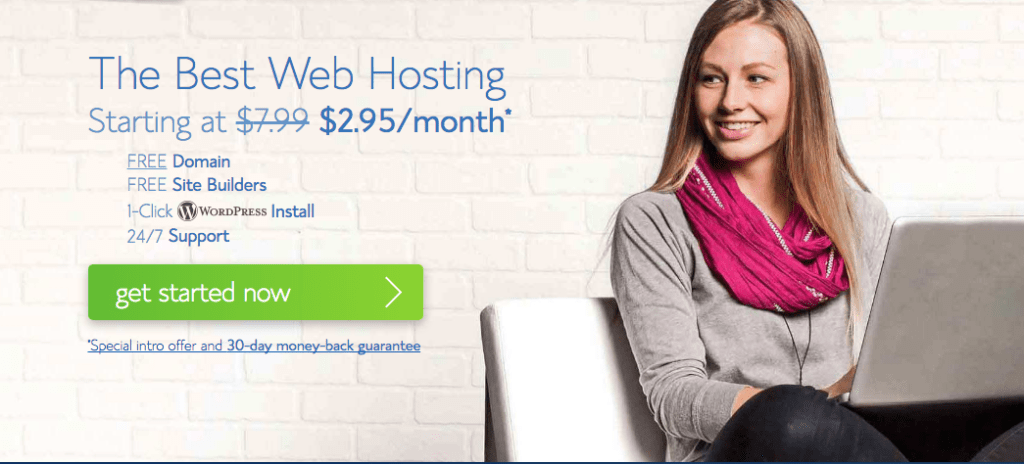 ---
WordPress Themes

Elegant Themes is a great website consisting of hundred of themes to choose from! This is a great company to use because you don't need a parent or child theme. I love the Divi Theme!

Studiopress provides the Genesis theme, which is one of the tops themes you can have as a blogger or business. Google search also loves Studiopress.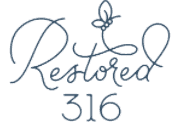 Restored 316 Designs (feminine themes) l I was using the Delightful Pro theme and now use the Darling theme)
Pretty Darn Cute Designs (feminine themes)
---
Email Opt-Ins, Newsletter Subscribers and Opt-In Boxes
---
Website Help

Fiverr I rely on Fiverr as all projects start at $5. This comes in handy when I need help on "behind the scenes" such as changing the CSS or restructuring the layout.
It's also a great resource for help with "the front of the house" if you want help writing a post, customizing a logo, etc. You can pretty much find help with anything on Fiverr. Get your first $5 gig for free!
---
Blogging Books
These are the only two blogging books I have read when it comes to blogging. I also still refer to both of them when I am trying to brainstorm or need a refresher on how to do something.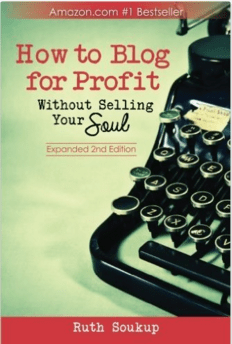 How to Blog For Profit: Without Selling Your Soul  This book is mostly geared towards the "front of the house" when it comes to blogging. While not technical, Ruth writes about a huge array of topics, all geared towards monetizing your blog in a non-icky way.
You will learn how to make money guest writing, pitching brands and how to create a product. If you are new to blogging or ready to start monetizing your site, this book is a must read.
---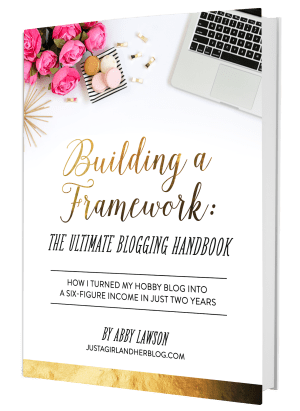 Building a Framework: The Ultimate Blogging Handbook  Abby has become one of the fastest bloggers and earned six figures in her first year blogging! Her in-depth book is full of tutorials and teaches you how to do almost anything and everything.
There are three different levels when purchasing her book. While this book is great as a stand alone guide, she has other packages available, including a private Facebook group and audio interviews with other well known bloggers. You can read my review here.
---
Personal Finance Books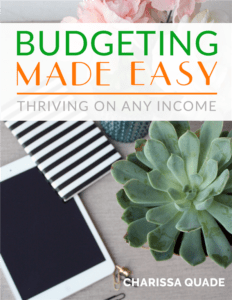 Budgeting Made Easy is an ebook that will help you learn how to budget, save, pay off debt, how to handle variable income and reduce your stress!
This book is perfect for people that need to get a grasp on their finances.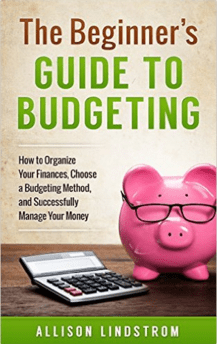 The Beginner's Guide to Budgeting is incredibly helpful for people who want to change their finances. You will learn how to trim your budget, how to spot trouble areas and tips on controlling your spending.
Whether you are in debt, trying to save money or increase your income, Allison's book is great for people who want to work on their budget!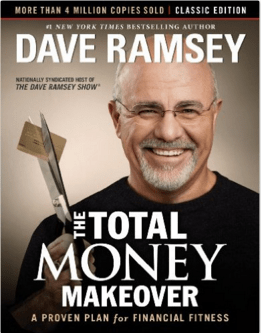 Total Money Makeover Dave Ramsey is one of the best financial experts out there. His "snowball" method is genius and helped me get out of credit card debt.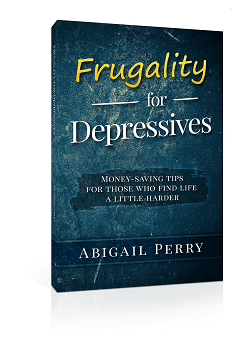 Frugality for Depressives This book was written by Abby from I Pick Up Pennies, and it geared towards those suffering from depression who also need help with budgeting. This is a must read!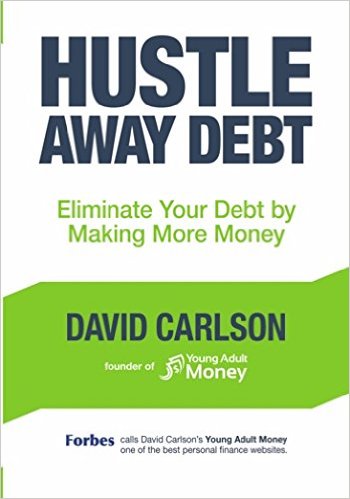 Hustle Away Debt This book was written by DC from Young Adult Money. Learn how to get rid of debt by using your skills to side hustle!
I'm excited – I'm even featured in this book on what companies I like to work with when I'm side hustling!
---
Affiliate Income
These companies act as the middle man between you and brands that you like!


---
Advertising Income
Google Adsense This is one of the top companies to earn income on your website. Payout threshold is $100 and is paid around the 21st of the following month. No minimum page views required.
Media.net This is one of my favorite ad networks that I work with. The payout threshold is also $100 and is paid out around the last day of the following month. No minimum page views required.
---
Sponsored Content
IZEA This company is great as they accept bloggers at all levels. You can bid on sponsored opportunities, as well as have companies contact you directly for private offers.

Cooperatize This publisher also accepts bloggers at all different levels. After entering in all your stats and links to various social media sites, they will calculate your sponsored rate. This rate can also be adjusted on your end to what you are comfortable with.
Linqia is a great to way to earn money from ads, as well as sharing sponsored posts, tweets and Facebook campaigns.  I like Linqia because they have so many different opportunities for bloggers across social media, even if you don't have a ton of followers (I think them minimum was 1,000 followers)
---
Editing Images
PicMonkey You can select a free or paid plan with PicMonkey. Some of the fancier fonts and editing options require a monthly plan, which you can cancel at anytime with no fee. PicMonkey is probably the easiest editing program available.
Canva This is another great option and I do the majority of editing via Canva. There is also a free or paid for plan.
---
Pinterest Scheduling Service
Tailwind If you utilize Pinterest for your business, this scheduling program will save you a ridiculous amount of time each week. With this program, I schedule all my pins in advance. This program is a major time saver.
---
Content Sharing
SumoMe  This amazing plugin lets readers share your content across all social media platforms. It's streamlined and clean looking. You can also use this app to gain new readers by using signup forms for your newsletter.
---
Online Organizing
Google Apps This is the best online app to use when running a business. Aside from email. you can also access Google Docs (similar to Microsoft Word), Google Drive (an amazing online data storage base), Google Sheets (similar to Microsoft Excel) and Google Slides (similar to PowerPoint).
Google Apps is also great for accessing Adsense, AdWords (great for researching SEO) as well as forming groups and storing contacts. My favorite feature is the domain email address. My blog looks more professional as I use my domain name as the email host. I also have the ability to create multiple email account with the same email host.
---
Travel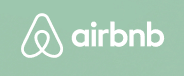 AirBnB is one of my favorite ways to travel around the US and globally. I've used AirBnB everywhere! If you are new to AirBnB, here's a coupon for $35 off your first stay anywhere!
---
Banking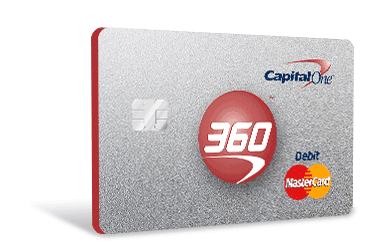 Capital One 360 If you are tired of traditional banking, Capital One 360 is the ideal bank. Everything can be done online and I even earn interest on all my checking and savings accounts.
You can also open up to 20 bank accounts, which comes in handy if you want to open different accounts, such as one for taxes, one for savings, etc. There are also ATM locations all over the country if you need to take out cash for no fee.
---
Side Hustling

Side Hustle to Success Learn how I've made over $7,000 in side hustles the past couple of years. I'm sharing every single company I work with, including direct links to every website. I also share my strategy and what companies you will want to get started with ASAP.
---
Blogging Course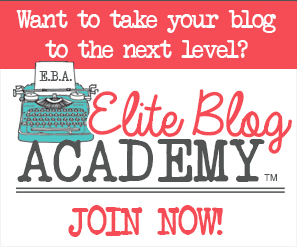 Elite Blog Academy helped my blog tremendously. Prior to taking the course, I was averaging around 4,000-5,000 page views a month in March of 2015. After completing the course, I had 160,000 page views in December.
Aside from growing my traffic, I learned how to work with brands (specifically obtain sponsored posts), release a product (The Ultimate Resource Guide) and started a business! If you are ready to make the switch from blogging as a hobby to a business, EBA is the best course around!
---
Freelance Writing Course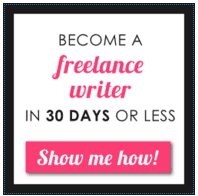 30 Days or Less to Freelance Writing Success Gina's course is designed to help people break into a freelance writing career. Gina was able to quit her job and freelance full time and she's sharing exactly how she did it. She's written for Huffington Post, Business Insider and more!
If your goal is to write professionally, this course is designed to change your life in 30 days!
---
Organization
The Simplified Planner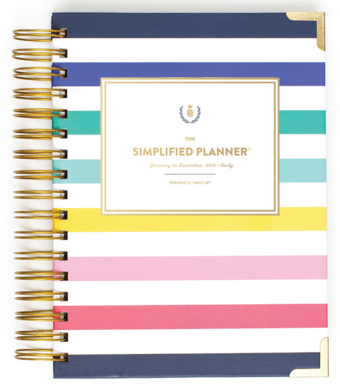 As much as I love electronics and being connected, I rely on a paper planner to schedule business meetings, blog posts and due dates.
I've been using this planner for the past four years and the quality is top notch.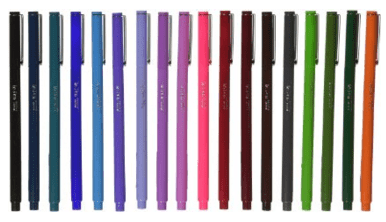 Le Pens I also love these pens as they don't bleed through paper to the back side. Besides, color coding anyone?
---
Side Hustles / Extra Cash
Ebates I've made over $800 from Ebates. All you do is start on the Ebates website, click on the the shop you want, and then you earn cash back from each purchase. The cash is deposited into your PayPal account. It's free money. Sign up here to get a $10 bonus
Ibotta You use it after you go grocery shopping and use your receipt. It's basically a rebate app, so you can earn anywhere from 50 cents to $5 off everything you buy.
My favorite part about this app is that it's not always brand specific, like a lot of coupons are. So you'll be able to scan "any brand of bread" for 50 cents off, etc. If you do coupon – you can STILL use Ibotta and get a rebate. For the diehard couponers out there, this will often result in getting an item for FREE. Crazy, right? Get a FREE $10 cash bonus here.
---
Please let me know if you use any amazing resources or if you have any questions about anything on this list!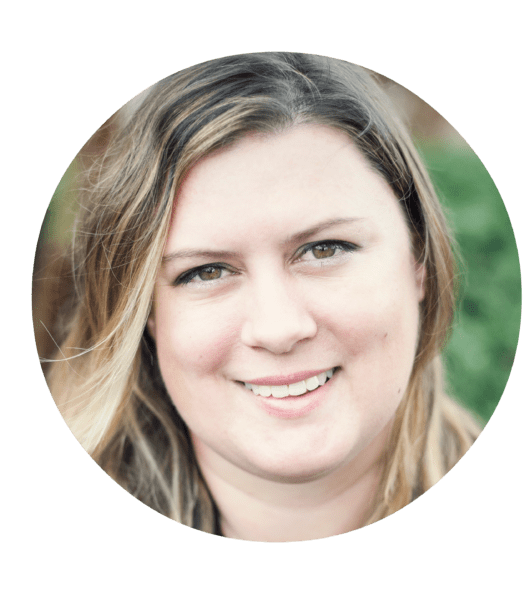 Kristin, is the creator behind Believe In A Budget. She teaches others how to start a blog and how to side hustle. Her course, Pinterest Presence, helps bloggers + businesses drive traffic to increase their website's profitability.