Here is my March online income report. I've shifted some with my feelings about income reports, but still have some uneasiness with them internally. However, I always get a lot of positive feedback about them, so I'm going to try to focus on helping other people through my experience with making money online.
I'll be honest – I have a lot of ups and downs about blog income reports. When I go back and read my online income report from last month, I can feel the stress coming out in that post.
I am generally positive and happy and love my blog and work life, but I think it's important to be open to some of the downsides that I experience.
Let's start from the beginning. My most popular income report is still my very first one!
Almost exactly two years ago, I published my first income report proudly stating how I made $60. It took me about four months and I busted my butt to make that money! I was SO excited to know that my hard work was paying off and blogging was legit!
Since then, I've been sharing my online income reports each month. I haven't missed one yet!
Since publishing my income reports, for the most part, my income has increased. Although there were a few months my income dipped down, I consider my overall experience with online income totally worth it. I enjoy going back through all of my reports to see what worked and didn't worked, and then comparing that to my level of income. There is so much knowledge in each post, so I find them super helpful!
Whether I have a great month or so-so month, I'm happy to let readers know what I did wrong and the lessons learned. Running an online business is hard!
My March income was great! It's amazing how much I'm earning from affiliate income. I've spent a ton of time working on this area of income and it's one of the best decisions I ever made! The earning potential seems unlimited. The hardest part about earning affiliate income is myself – I'm short on time and realize that the harder and smarter I work, the better off I will do!
Here are some previous online income reports:

Breakdown of my March online income report:
March was my seventeenth month I have been self employed. I'm almost at the 1.5 year mark! I started this blog in January 2015 and quit my day job in October 2015. I haven't looked back since!
Here's the breakdown:
$896 Ad revenue (this amount has been down as I've been trying to cut down on ads)
$0 Partnerships/Sponsorships
$18,312.79 Affiliate Income
$543.88 Courses + products
GRAND TOTAL: $19,752.67
Holy sh*t, right?! I know I'm not a big time blogger or anything, and I'm probably not as calm and collected as other big bloggers, but this is just a crazy number to me. When I receive a deposit in my bank account or via PayPal, sometimes I will look at the amount for a minute and be like, Is this real? Do I get to really keep this? Then I'll take a snapshot of the amount and send it to my dad and be like, look at this!! Ha!! 
So yeah, haha, I find this all totally insane. At the same time, I've been working on this website for 26 months. I've put in the work – a LOT of work – to make this blog and business succeed. By far, the coolest part is there is literally no cap on how much money I can make. So if you've thought about starting your dream blog, anything is possible. For real! 
If you want to keep track of your online income (which I highly recommend) check out Freshbooks! It's what I've used to track business income, expenses, invoice clients, and more. Click here to learn more about Freshbooks.
Removing Pinterest Presence, my evergreen course, was dumb
First of all, here is a chart comparing my income from January, February and March. I took Pinterest Presence down in February as I wanted to make upgrades to the course. This was a foolish move on my part. I plan on keeping the course evergreen year round and for some reason thought I should take the course down while transferring in new material.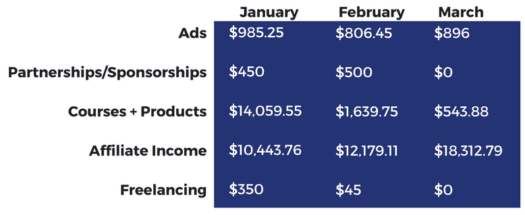 Looking back (I'm writing this blog post mid April), I should have left the course alone. There's no reason I couldn't make updates with the material while keeping the course open. I'm really annoyed with myself over this decision for two reasons.
First, students have 24/7 access to the course and get the new content. Second, I was denying potential new students from getting into the course. Only a few parts are getting a makeover, so it wasn't as big of a deal as I thought it would be.
As you can see, the only income coming in was from students who were on a monthly payment plan. Lesson learned – I should have kept my evergreen course open! Crazy, right?!
On a positive note, April's income is looking crazy, crazy good, so stick around for next month's income report because I have a lot to write about 🙂
Affiliate income continues to grow faster than anticipated
What's up with this?! I'm really happy with my affiliate income growth. I didn't focus on affiliate income when I first started this blog. It didn't make sense to me and I didn't really understand it for about a year into blogging, ha!
Last year I made the decision that I wanted to switch my main source of income from freelancing AKA my Pinterest management company to more passive income. The main reason for wanting to do this was because my Pinterest management company was growing (almost too fast) and I was working more than I wanted to!
I know this might sounds ridiculous to some people, but I wanted to slow down and focus on my own brand. I needed to figure out how to switch gears and grow my affiliate income, as well as my courses and products.
My affiliate income comes from a wide range of products and services. The great thing about this blog is that it focuses on side hustles, online entrepreneurs and how to blog, so I have three different audiences. This means I can find affiliate programs that are pretty diverse to increase my income!
Here's a chart on how much my affiliate income from my online income reports has grown in the past year: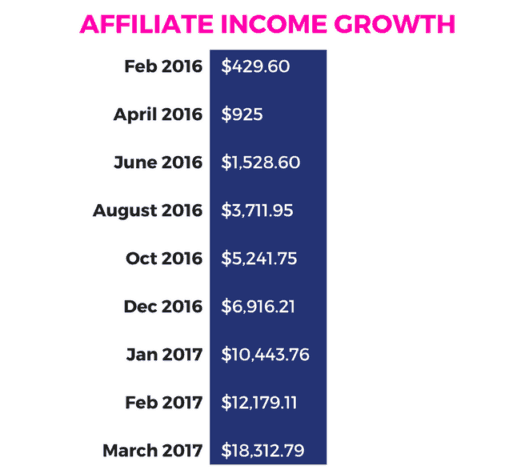 I made some serious effort to focus on making this switch in Q2 of 2016. It took several months, but I made the switch. A year ago my income probably came 90% from freelancing; today it's 1% or less.
It's really crazy to look at this chart and see how much my affiliate income has increased. Awesome! If you need help growing your affiliate income, take a look at this course. 
I get requests all the time about Pinterest management. I do take on work here and there, but mostly I'm in a really good place with this. When I receive a client request for my services, instead of saying no, I can now refer them to a solid group of Pinterest VA's that have taken my course Become a Pinterest VA TODAY! I can't even tell you how many emails I'm receiving from students that are now getting clients as Pinterest virtual assistants. This gives me the good feels all over! 
Here's some highlights from March:
I put the finishing touches on Become a Pinterest VA TODAY! with my partner Gina from Horkey Handbook. Gina and I have worked so hard to make this course full of information and it's going to be a steal at $69. I love that I can take my personal experience as a Pinterest virtual assistant and turn my knowledge into a course that can help other people, and I know Gina feels the same way about her VA skills. There's nothing else like this course out there and I think it's going to do really well. Get on the waitlist here.
Pinterest Presence is still my signature course! You can enroll now.
I spent $200ish on Facebook ads in March and it paid off. My ad was geared towards directing readers to read a specific blog post with affiliate links, and the increase in income was well worth it. My affiliate income jumped up $6,000 from February to March, which I think is just nuts. I'm still slow with just dropping money on Facebook ads, but I am slowly getting more confident in this area of advertising.
I bought three domain names! They are all related to Pinterest and Pinterest virtual assistant services. I'm in the process of having them all redirected to my courses. I'm hoping this pays off with SEO and Google searches 🙂
Monthly Online Income Report Expenses
These were my March expenses:
$0 Tailwind. I pay for this annually. Tailwind is the scheduler I use when I do all my pinning on Pinterest. It's my favorite scheduler I use for my clients, recommend to clients and my students.
TOTAL EXPENSES: $459.99
I still have to deduct around 30% of my income for taxes as well. I pretty much do everything myself, except for major tech issues. I think it's really important that I know what I'm not good at doing! It's definitely worth outsourcing tasks that I know someone can do better and quicker.
I expect my overall monthly expenses to increase starting in April, because I'm going to invest in a few more products and services that I think will help me grow my income.  
What's next
I still look like I've been MIA from the blog, and by all appearances – yes, I have been! I've been focusing on a lot of projects behind the scenes.
My new site went live! I switched themes and that took a while. I'm working on SEO and fixing a never ending list of back end issues, like redirecting posts, fixing broken links, etc. Basically, boring stuff that I don't like but have to get done in order to make this blog a better experience for the reader!
I've also been working on updating my courses, which is taking up nearly all my free time. Recording new videos and updating course material, especially for Pinterest Presence, is time consuming. Pinterest has been through so many changes in the past several months that it's tricky to keep the course as fresh and current as possible!
Become a Pinterest VA TODAY also launched at the beginning of March, so much of my work towards the end of March was focused on this course.
Overall, I'm excited about the direction things are going in! Everyday I still feel like I'm learning something new and get excited to see what happens next 🙂 Starting this blog a little over two years ago has totally changed my life and I couldn't be happier about things!
✕
Free 7 Day Blogging Course via Email
Join thousands that have learned how to start and grow a profitable blog. Sign up for free tips below!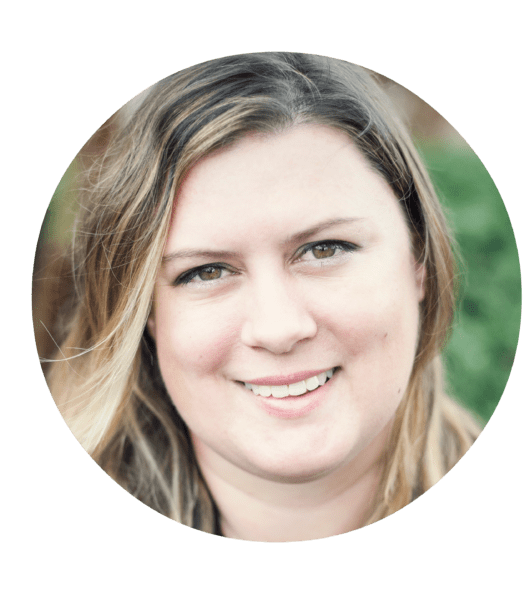 Kristin, is the creator behind Believe In A Budget. She teaches others how to start a blog and how to side hustle. Her course, Pinterest Presence, helps bloggers + businesses drive traffic to increase their website's profitability. Click here to learn more!