Creating a Pinterest pinning schedule and increasing my Pinterest presence was one of my goals for this month. I've read a ton of articles about how I can pay a company to create an automated Pinterest pinning schedule for me. This saves bloggers a ton of time from having to log into Pinterest multiple times a day and post photos.
The problem is I haven't had any luck finding a free service. As much as I would love to free up my time and automate pinning, it's just not in my budget right now.
One of my biggest problems is I get sucked into Pinterest really easily! I have found myself spending hours pinning and not accomplishing anything on my to-do list. I knew I needed to create a plan to work smarter, not harder, when it came to pinning!
✕
Free 7 Day Blogging Course via Email
Join thousands that have learned how to start and grow a profitable blog. Sign up for free tips below!
I decided to create my own Pinterest pinning schedule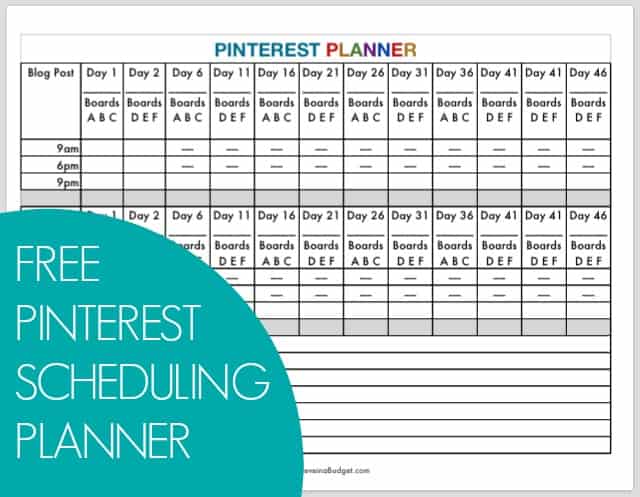 I read a few blogs about the power of a pinning schedule and researched how automated pinning works. I decided to make my own Pinterest pinning schedule and printed out a few sheets ahead of time to do my scheduling. As much as I love technology, I'm still a fan of planners. Plus, I'll take any chance I can to play with my favorite pens in the whole world
 😉
By creating a pinning schedule, I can plan how long it should take me to pin from my own boards! Instead of wasting time, I now spend about 15 minutes per time block (9am, 6pm, 9pm-ish) to get my work done.
Of course, pinning goes both ways. I have also created a 30 minute time slot each week for pinning other bloggers' pins that I find useful.
How my Pinterest pinning schedule works
Once I am prepared to publish a post, I get out my scheduling chart and fill in the key areas –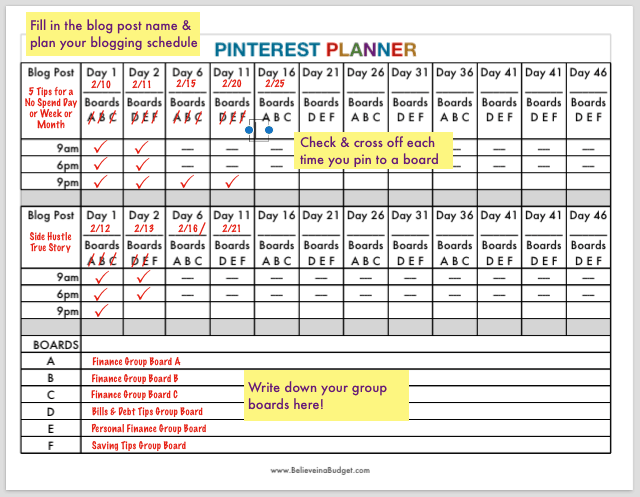 1. Write in the name of the blog post
2. Fill in and post date the next 40ish days- Per my pinning schedule, I am going to post the same photo from my post 3x on Day 1 and Day 2. After that, I am going to post the same photo onto my group boards 1x every 4-5 days
3. Decide which group boards to share my photos- I am currently pinning on 3 group boards (I had to apply to each one), but my goal is at least 6 group boards. I have labeled each group board A-F on my chart. At the bottom of the page, I have left this space blank so I can fill in which boards work with my specific posts.
4. Checkmark and cross off each date and time I pin my photo
Of course, my Pinterest pinning schedule method might not work for you. It might not even work for me! The schedule I have created is based off of other successful bloggers and automated Pinterest services, so I am confident I will increase my Pinterest presence.
I have created a FREE Pinterest pinning schedule that you are welcome to download! Simply click on the link and it will download as a .pdf.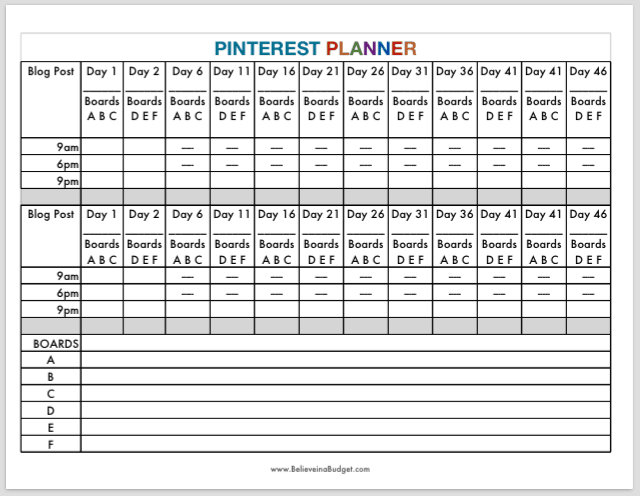 My Pinterest Goals
Since this blog is brand new to Pinterest (I'm not counting my niche website), I am going to do a 30 day experiment to see how effective I do with my pinning strategy. Of course, I will be sharing my results next month so I can see what I did right and what I did wrong!
I also want to slowly join more group boards. Because I want to be an effective pinner, I am proceeding slowly so I can monitor how well I manage my time.
✕
Free 7 Day Blogging Course via Email
Join thousands that have learned how to start and grow a profitable blog. Sign up for free tips below!
Do you have any Pinterest tips? Do you use an automated service or have a method to your planning?