Before I created a schedule, I was all over the place when it came to blogging. I worked on my blog at random hours and never had a clear goal of what I wanted to accomplish. It was really difficult finding time to blog, especially when I was just starting out!
Relate post: How to start a Blog
Aside from this website,  I also have a completely separate blog I have had for several years. About a year ago, I made the decision to put that blog on hold because I just couldn't do it all. Moving across the country, starting a new job, figuring out my priorities – I was overwhelmed and there was just too much on my plate!
Now that I have gotten into a routine, I am ready to pick back up with my other blog. While it can be difficult working on one blog, I have managed to find a nice balance between both blogs that I am comfortable with.
Finding Time to Blog
Make a schedule and stick to it
Rebooting my other website is definitely taking up a lot more of my time. I've tasked myself with going back and correcting broken links, improving photos for Pinterest and adding better SEO content. I have hundred of posts to go through and it's a bit overwhelming!
Creating a blogging schedule has really helped. My weekly schedule typically looks like this:
Believe in a Budget – Mon, Wed, Fri
Other Website – Tues, Thurs, Sun
I still check emails and use social media daily for both sites, but I limit my time on both. I work best with a schedule and feel more in control when I focus on one website at a time, instead of constantly going back and forth between the two.
✕
Free 7 Day Blogging Course via Email
Join thousands that have learned how to start and grow a profitable blog. Sign up for free tips below!
Use a Planner
As much as I love technology, I prefer paper and pen for brainstorming, planning, and scheduling. Emily Ley's Simplified Planner is my go-to planner. I've been using one of her planners for the past three years and never leave home without it. I also have Le Pens
 and Washi Tape Kit
 specifically for this because I have OCD am all about the color coding!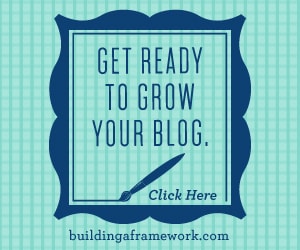 One of my favorite resources is the Blog Binder from Just a Girl and Her Blog. Even though I utilize the editorial calendar in WordPress, I like being more hands-on with the blogging binder.
Not only does it have a monthly calendar to help me with planning posts, but I like to jot notes in the different blog sections and topics.
The blog binder also includes various checklists I utilize all the time on the (not so fun for me) technical stuff, like weekly and monthly maintenance help, keeping stats from Google Analytics and social media and other handy sheets.
Utilize the golden hour
One of my favorite podcasts is The Lively Show. The show's creator discussed the importance of the golden hour and it really resonated with me. What is the golden hour? The golden hour is often referred to as the most productive part of someone's day.
My golden hours are first thing in the morning, generally between 5am to 8am.
I work efficiently and can get through my blog to-do list uninterrupted during this time. I use this schedule when alternating days between both blogs and it has worked really well for me.
What is your golden hour?
✕
Free 7 Day Blogging Course via Email
Join thousands that have learned how to start and grow a profitable blog. Sign up for free tips below!