Fall side hustles are a great way to make money before the holidays.  We all know the holidays, whether it's Thanksgiving, Christmas or Hanukkah can be expensive!
It's always nice to have extra cash to help you get through the holiday season. If you want to make extra money, you can start a side hustle (or two!) at anytime to save money.
Of course, the earlier you start to side hustle, the more money you will have to use at the holidays.
I love to side hustle because it's a flexible way of earning income without having a part time job. Plus you can side hustle from home or on the go. Basically, anywhere!
Free Side Hustle Cheat Side Download
Join thousands of other people who have grabbed this FREE side hustle cheatsheet and start earning extra income.
Fall side hustles are great for all kinds of people
Everyone can participate with fall side hustles. You might want to start a side hustle if you are:
Trying to save money for holiday presents
Driving long distance to see your family or friends during the holidays
Not wanting to use credit cards to buy presents
Don't want to use your savings to pay for the holidays
As many of you know, I started side hustling years ago! I've shared countless ways to earn extra income without having a part time job.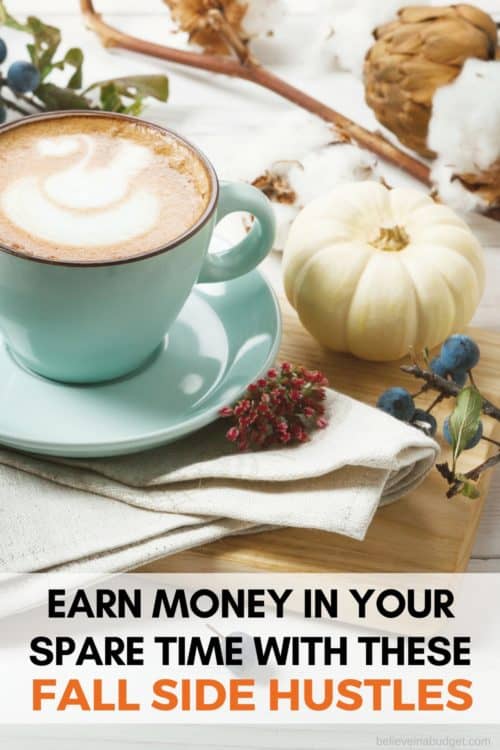 One of the very first ways I made extra income was to take surveys online.
I love taking surveys because I can do them in my spare time.
While surveys won't make you rich over night, they are a great way to make some extra money.
I like to take multiple surveys and watch all my income grow with each survey company.
Then I cash them all out at the same time!
Last year I even paid for Christmas presents with all my savings from surveys and cash back cell phone apps.
This really made Christmas more affordable!
There are a ton of survey companies out there that let you earn money this way.
Remember, every company should be free to sign up with – you should never pay to sign up with any companies!
Because I've been with all these companies for so long (some as long as ten years), I have been able to figure out which companies really help me earn the most cash back, which I am happy to share with you!
Using surveys for fall side hustles
Usually I do these surveys when I'm watching TV, because they are pretty mindless and easy to do.
Let's face it – there are so many great shows to watch on Amazon, Netflix or on cable TV.
This is a great way to earn money with fall side hustles and fun 🙂
All of these survey companies are legit. They aren't a scam and you can earn cash back, as well as rewards. The surveys are very easy to do.
The more surveys you participate in, the more money you will make!
Swagbucks
Aside from being able to shop online, Swagbucks lets you watch videos that earn you points! These points can then be exchanged for gift cards and cash back.
You can earn gift cards to places like Amazon, Target, Starbucks, Walmart – basically places you normally already shop at. You also get a $5 bonus when you sign up here!
iSay
iSay survey panel is one of the oldest and most recognized survey companies around today.
iSay is really fun because in addition to taking surveys, you also get polled and see how your results compare to other people.
There is a loyalty program as well as the regular rewards program.
With this program, you earn gift cards (like Starbucks, Target, etc.) as well as Visa pre-paid cards as well that are essentially cash! Sign up here with iSay.
VIP Voice
VIP Voice lets you earn rewards for completing surveys as well as writing in an online, virtual journal, which makes it different from other survey companies.
Sign up here to get started with VIP Voice.
YouGov
This is one of my favorite survey companies. You answer really current questions related to the economy and you also get to see the results.
You can cash out for a ton of different gift cards, like Visa, Walmart and more.
Sign up here and receive 2,000 bonus points!
Pinecone
This is similar to other survey sites – you earn points for taking surveys and then you redeem your points for a pre-paid Visa gift card or rewards.
I like Pinecone because you get to give your opinion on products (and even test them out), so your input influences whether or not products hit the shelves.
I've been using Harris Poll for years!
You simply take surveys and get rewarded. It's one of the very first survey companies I started working with when I started side hustling!
Click here to get started with Survey Junkie!
My Points
My Points was the very first survey company I started with when I was in college. I have been using them for ears. Sign up here!
The best fall side hustles to use with your cell phone, tablet or computer
Ibotta is a cell phone app that lets you earn cash back rebates from your purchases. This is by far one of my favorite ways to earn cash back. The money can quickly be transferred into your PayPal account.
I also love this app because you can use it every single time you go to the grocery store or places like Target or Walmart.
You just scan your receipt, see what items you purchased have a rebate, and then redeem the rebate.
This is one of the best fall side hustles to do especially because of all the extra food and purchases you make at the grocery store during the holidays.
What I like best about this app is that many of the rebates aren't brand specific.
This means you can typically find a rebate that is for something like "$0.50 off any brand of milk" or "$0.75 off any brand of bread".
The savings add up fast!
Join Ibotta and earn a $10 cash bonus!
Ebates
You can make mad cash back every time you shop online with Ebates.
They even give you a $10 cash bonus when you sign up.
I've earned hundreds of dollars back since I signed up with them a few years ago. Join Ebates here!
Nielsen
The Nielsen program is an updated app I've been using for the past few years. You download the app…and that's it.
Nielsen is a professional research company for media and marketing, including the Nielsen TV ratings.
With the app, you just surf the internet as usual and Nielsen uses the data to learn more about data.
I like this app because it's a 'set it and forget it' side hustle that make me money every month!
Sign up with Nielsen here and get a bonus!
Start a blog
Starting my blog was one of the best decisions that I ever made! It took me nearly four months, but I shared my very first income report and made around $60.
Blogging has totally changed my life for the better. While blogging started out as a side hustle, it eventually became my full time job. I was able to quit my day job in less than a year and have been blogging full time ever since.
Here is a tutorial that walks you through how to start a blog.
How to side hustle with mystery shopping
One of my favorite ways to side hustle is to mystery shop.
Aside from making money, most mystery shops will reimburse you for your purchases from dining out and shopping.
This course provides over 40 direct links to companies you can start side hustling with immediately.
Many people believe the myth that mystery shopping is a scam, but this is far from the truth!
I have made great income from mystery shopping. I have been able to shop at popular retail stores and buy presents for friends and family at no charge, thanks to mystery shopping.
Usually I am able to purchase something that will be reimbursed, as well as receive a cash bonus for completing the shop!
Additional side hustle posts
If you want to continue reading more about side hustles, here is a list of free blog posts about side hustles.
Free Side Hustle Cheat Side Download
Join thousands of other people who have grabbed this FREE side hustle cheatsheet and start earning extra income.
Do you have any fall side hustles you like to do?