Can you believe Valentine's Day is less than 2 weeks away? I love the holidays and the opportunity to give to my loved ones.
Thankfully, Valentine's Day can be one of the more budget-friendly holidays to celebrate, especially if you're single 🙂
Even if you don't have a significant other, you still might want to grab something for kids or loved ones. Thinking outside of the box this year past the typical flowers and box of chocolate options? I don't blame you.
Classic Valentine's Day gifts can be super pricey and not as meaningful and unique. Luckily, I have a few budget-friendly gift ideas you can consider for him, her, and the kids.
For Him
Grooming Kit – Men still need to groom too! This grooming kit on Amazon includes a handmade wooden comb and natural boar bristle beard brush set. Perfect for all the bearded gentlemen!
Graphic Tee or a Nice Shirt  – Can guys ever have too many shirts? Stop by your favorite store and sort through all the t-shirt options to see if you can find something he would like. If he enjoys humor, you may want to grab a shirt with a funny message on it.
If he's a big fan of a certain movie, T.V. show, or sports team, see if you can grab him some fandom gear. At minimum, you can pick up a nice button down shirt and gift wrap it. He will definitely put it to good use either at work or the next special occasion.
Car Phone Holder or Phone Case – This car phone holder is only $13 and will come in pretty handy for anyone like me who hates driving somewhere with directions and having no place to set their phone. It's easy to assemble and clips right onto the air vent in your car.
A new phone case is also a reasonable gift that could prevent costly phone repairs if the screen gets cracked. OtterBox is a really durable brand and they sell phone cases on Amazon or in some tech accessory stores.
Wallet – Wallets can do more than simply store your money these days. They can also protect you from thieves looking to steal your credit card and bank information. This genuine leather wallet looks normal, but the lining is equipped with RFID blocking technology to help prevent thieves from copying your card information.
You can even upgrade this Valentine's gift by filling the wallet with a few gift cards to his favorite stores and restaurants.
For Her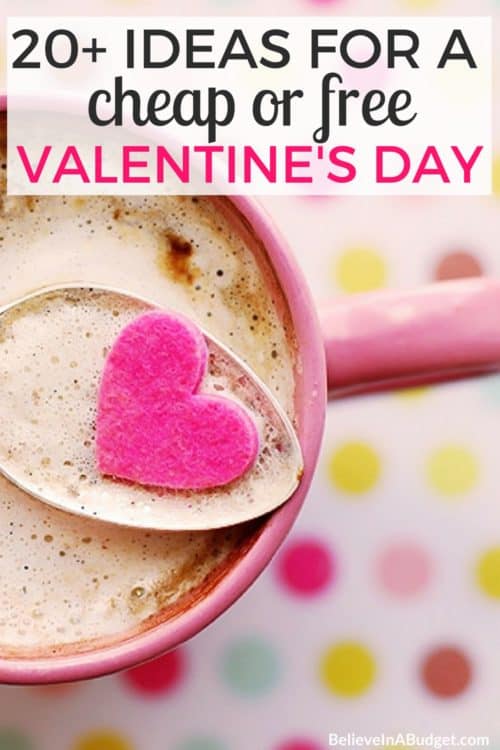 Pajamas – Sleep shirts and comfy P.J.s for the win! There are always tons of cute sleepwear sales for ladies around this time and I just want them all. A robe would also be a nice alternative option and you could even throw in some socks, slippers, bath bombs and lotion for a complete lazy day.
Coffee Thermos – This Vela 12-oz Magic Love Heart cup is perfectly themed for Valentine's Day. The heart on the cup actually changes colors depending on the temperature of the beverage you're drinking. You can use this thermos for coffee, tea, and even iced-beverages or just plain old water.
Canvas Wall Decor – If she loves inspirational quotes, consider grabbing some canvas wall decor to decorate some rooms at home or even at her job. You can also create your own canvas online by designing a custom message or even adding a special photo from your memories. You can customize canvases for cheap on sites like CanvasWorld.com or EasyCanvasPrints.com.
What I Love About Your Journal – This journal is a great pick for someone who loves words of affirmation. You'll fill it out and express all your favorite traits and characteristics from her so she can hold onto it as a keepsake. Does she need her own journal or planner to stay organized and record daily tasks? Consider picking one up as well.
For the Kids
Art Supplies – Instead of loading kids up with sugary candy, get them some art supplies so they can draw and create instead. Items like crayons, coloring books, scented markers and stickers are pretty cheap and they can make crafts for hours.
Books – You still have time to order some Valentine's Day themed books or you can just get some other books that include their favorite characters and themes.
Stuffed Animals – This is a good idea for younger kids and you've probably already seen tons on sale in stores over the past few weeks. If you have a lot of little kids in your family, you can send a stuffed animal to each of them for Valentine's Day.
Heart Photo Memory Game – You might have played the classic game Memory before. This version is customizable and perfect for the holiday. You can order the game on PinholePress.com and customize it with photos of family members to make it more fun.
Cheap Ideas For Activities
Aside from gift-giving for Valentine's Day, you can also indulge in some low-cost activities and outings with your loved ones. These 10 ideas barely scratch the surface of what you can do:
Go to breakfast – It will be much cheaper (and less crowded) than a pricey dinner out
Go for a walk or ride bikes
Picnic in the park
Redbox or Netflix movie night – bake some yummy treats together
Go see a matinee at your local movie theater
Cook dinner together at home
Create Valentine's Day-themed table centerpieces with kids
Complete a paint by numbers project together
Write handwritten love notes
Complete acts of service (take over a chore or responsibility for a loved one)
Free Side Hustle Cheat Side Download
Join thousands of other people who have grabbed this FREE side hustle cheatsheet and start earning extra income.
At the end of the day, it's what's in your heart that counts the most so keep that in mind when you're trying to avoid the pressure to overspend on gifts and activities for Valentine's Day. Identify what your budget will be and think outside of the box and get creative in order to stick to it.