If you've been thinking about pulling the trigger to start a blog you've been dreaming about, or finally turn your blog into a reliable source of income, now is the time to take that first step and get started.
It's always easy to tell yourself you'll start on something next week. Or maybe you'll write it down on your list of things to do, but never get around to it.
One of the hardest time management skills I used to struggle with was finding time for my blog. Prior to quitting my day job, working full time for someone else was my number one priority (let's face it, money pays the bills).
When I started freelancing, focusing on my client's quickly became my second priority and eventually shifted to my first priority. It didn't matter what it was, my blog was always at the bottom of my list.
After quitting my job, I thought I would have all the time in the world to focus on my blog. Um, can you say wrong?! I'm busier than ever hustling with my career. Finally I realized something had to change and realized it was time to schedule in my blog like it was a client.
Now I schedule in this website like it's a client. It doesn't matter how my day looks, I schedule in at least an hour a day to accomplish something on my to-do list that is goal oriented. This has done wonders for my blog and really helps me stay productive.

Here's 11 things you can do now to jumpstart your blogging goals:
Learn how to start a blog
It took me months to pull the trigger and start this website. It was easier that I thought it would be and took no time to get started. Starting a blog has changed my life! In only ten months, I made over $13,000 from blogging! That's a lot of money to make in a short time, and it's all because I started this blog! 
If you are thinking about starting a blog, this tutorial will help you start a blog today. You'll also get a FREE domain name for a year! I was able to quit my job and blog full time, all within my first year of blogging. I am really glad I took a chance and started a blog! I invested a small amount of money to start my blog using Bluehost, and I made $13,000 in 6 months of blogging. That's the best return of investment ever! 
Self host your site
Don't use Blogger or anything – you want to get your own domain name, use WordPress and have your own hosting. This way you have full control of your blog!
It's really to self host if you use Bluehost – that's the company that hosts this website! 
Purchase the theme of your dreams
We all know you should start with the Genesis theme as your Parent theme to get started (it's the most compatible theme with Google). The Genesis theme is like the bottom layer of your blog, or your "bones" of your blog. The top layer is your Child theme, which is what makes your blog look so custom!
Picking a child theme really makes your personality shine through.
When I first started blogging, I used a free theme mainly because it was free. But after a few months I realized I wasn't adequately expressing my blog's vision with the theme I was using.
Here are a few great resources for child themes:
Why not cross this off your list? Having a theme you love making blogging more fun!
Organize your website once and for all
Google Apps is where it's at. Have you really explored everything Google Apps has to offer? There's a lot at your fingertips that you should be taking advantage of ASAP. I have the $5/monthly plan, primarily for the professional looking email address (which ends in my domain name.)
Here are a few reasons why you should be using Google Apps with your blog:
Your own email address(es) with your domain name (this is the MAIN reason)
Create appointments with others via the Calendar
Google Hangouts let's you chat with VA's and coworkers on projects and collaborations
Google Drive and Docs are the best and most secure places for creating documents.
Join a tribe
If you're feeling lonely and want to be part of a community, start commenting on your favorite blogs. Send an email to your favorite blogger and tell them how much you enjoy their blog.
You could also do a Facebook search and look for groups that fit your niche. The Facebook communities are always really welcoming!
Get (inexpensive) help if you have a small (or nonexistent) budget
If you need help with small (or big) tasks and have a limited budget (don't we all?) Fiverr is a great place to start. Every task is only $5 each!
I've used Fiverr countless times for odds and ends on my website when I've either been short on time or don't know how to do something. If you've been putting something off because you don't know how to do it, there is an excellent chance someone on Fiverr can help you. It's time to cross that pesky item off your list so you can move forward onto something new!
Here are some ways Fiverr can help your blog:
Create a new logo or banner
Edit a post
Install a theme
Write a guest post
Fix your sidebar and widgets
Add a plugin
Customize your font, font color and link colors
Speed up your site
Help with SEO
If you haven't tried Fiverr yet, here's a coupon for a $5 gig for free!
Increase blog growth and pageviews
If you've been blogging for a while, but are having growth issues, reach out to me. I offer 30 minute chat sessions where I work one-on-one with you directly. We can review:
blogging basics
how to get started with freelancing
how to use Pinterest and create a marketing strategy
creating images
and more!
Let's line up a chat so you can stop wasting time and come up with a plan of action!
Utilize Pinterest better
Speaking of Pinterest, Pinterest Presence will definitely help you create amazing images (for your blog AND Pinterest), learn how to navigate Pinterest effectively to get traffic and how to schedule pins.
Work ahead on scheduling posts
If you are having trouble committing to a regular blogging schedule or write your post and click publish, why not try to work ahead? While some posts are perfect to publish in the moment, why not try to create an editorial calendar with your posts ahead of time.
If you're one of those people that has trouble writing and scheduling posts ahead of time, work on getting more organized!
Take fifteen or thirty minutes and have a brainstorming session about topics you'd like to write about. Once you're done, add them to your calendar. You might have written enough post titles to schedule out a week in advance or even a couple months in advance. There's nothing worse than not posting regularly because you don't have anything lined up or can't think of something to write about.
Stock your media library
Along with creating posts ahead of time, why not search and download stock images ahead of time? Think of this as batch work – you are finding photos in batches to save for a later date.
I have a library database I created that categorizes my stock photos into 2 sections – used and unused. Every time I use a stock photo in a post (and don't plan on using it again), I transfer it to my used folder where I keep all my blog photos.
Brainstorm regularly
Find your golden time when you seem to be the most creative and devote a small portion of this time to bettering your blog.
I try to have brainstorm sessions two to three times a week. This is generally when I'm either exercising or walking the dogs, or late at night with a journal. I really like thinking about my website when I'm away from my laptop and all electronics. This helps me clear my mind, be distraction free and just start writing.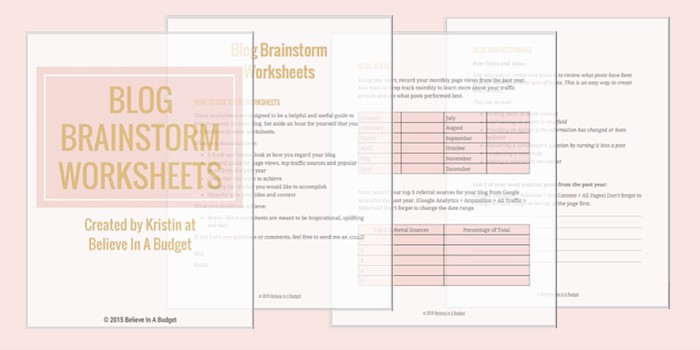 A free gift for you – an 18 page worksheet set designed to help you get back on track blogging
To help you get motivated, I created these blog brainstorm worksheets for you to download. You can print out the .pdf as many times as you want, especially since you will need to revisit your goals every few months.
Here's what's included in the 18 pages of worksheets:
Resource guide for your blog traffic, top referral sources and your top 5 posts
Brainstorming sessions to help you create over 25+ ideas for new blog content
Bank of keywords to help you with blog post titles
Brainstorming sessions to help you focus on your short, mid and long-term goals
And much more!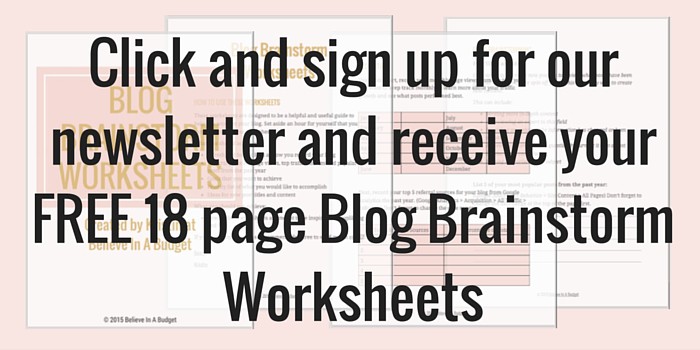 What area of your blog are you trying to improve or wish you spent more time on?
✕
Free 7 Day Blogging Course via Email
Join thousands that have learned how to start and grow a profitable blog. Sign up for free tips below!