When I read My Debt Epiphany's post about updating her financial goals from the new year and breaking it down per quarter, I thought that was a brilliant idea! Lately I have been focusing on month to month goals, but not creating any mid or long term blogging and financial goals.
There is a lot I want to accomplish in the next several months and it's a little overwhelming!
I don't want to overcommit and set myself up for failure if I don't reach a goal. I also don't want to sell myself short for fear of failing.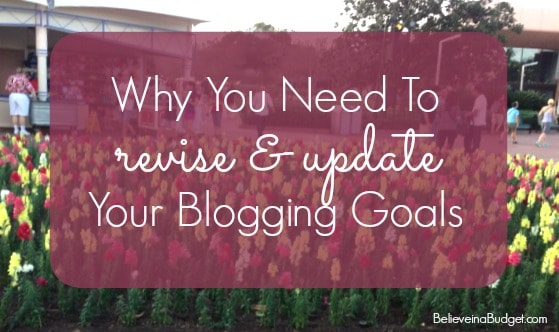 Blog Goals
Prior to writing this post, I didn't have any major goals written down that I was trying to achieve. I have basic goals I want to reach each month, but I'm a little passive about end of the month results. I decided it was best to hold myself accountable and write down what I would like to achieve over the next several months.
If you are thinking about starting a blog, this tutorial will help you start a blog today. You'll also get a FREE domain name for a year! I was able to quit my job and blog full time, all within my first year of blogging. I am really glad I took a chance and started a blog! I invested a small amount of money to start my blog using Bluehost, and I made $13,000 in 6 months of blogging. That's the best return of investment ever! 
I decided to organize my personal and financial goals into two categories. My mid term goals are between now and the next three months. My long term goals are where I want to be six months from now.
Never miss another blog post. Sign up now!
We promise to never spam or sell your email address
Believe in a Budget Blog 3 Month Goals
Get my Alexa rank under 350,000. I am currently at 488,000.
Grow my Twitter following to 1000. I am right under 500.
Work on creating a newsletter
Create at least 2 photos for each blog post that can be shared on Pinterest.
Speaking of Pinterest, I want to join more group boards and gain more followers. I currently have a new strategy in place when it comes to pinning and the results are already paying off!
Believe in a Budget Blog 6 Months Goal
Increase my page views to 5000 a month.
Apply for sponsored posts or join larger affiliate networks, like Shareasale and Cooperatize.
Niche Site 3 Month Goals
I want my niche website up and running by the middle of May. I am only about 25% done and need to spend a good chunk of my free time on this website.
Niche Site 6 Month Goals
Publish my ebook for my niche site in mid September. I have the outline done as well as some of the chapters, but still have a ways to go. The ebook will coordinate with my niche site really well!
Personal and Financial Goals
Personal 3-6 Month Goals
Save $2000 for car repair. Aside from some standard car maintenance, my car will be needing at least 2 new tires. I also have a feeling it will need some sort of operation as the transmission is running a little funny. I literally have no idea how much this costs, but know it won't be cheap!
Put away at least $7500 in savings. I have put paying off my student loan debt on the back burner right now as I am trying to reach this goal.  This is going to be one of my most stressful financial goals to date, as I am on a time crunch. I can't reveal exactly what this is for just yet, but I should be able to at my next quarterly review!
Never miss another blog post. Sign up now!
We promise to never spam or sell your email address
Do you have any personal, blogging or financial goals you want to achieve this spring?