Hi friends! I am so glad you are visiting this page.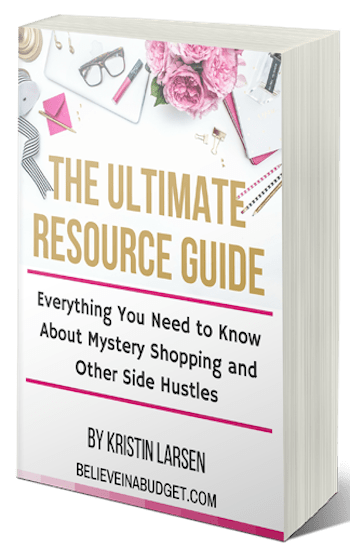 Thank you for reading The Ultimate Resource Guide: Everything You Need to Know About Mystery Shopping and Other Side Hustles!
If you have reached this page, it means you enjoyed the guide and are ready to spread the word.
Thank you so much for wanting to become an affiliate!
Each eGuide will retail for $39.
As an affiliate you will earn 40% of the profit from each eGuide sold through your unique affiliate link.
Here's how it works:
Create an account with Gumroad.
It's free!
This is where my guide is being sold, so you need to have an account. Make sure you enter your payment information so you can get paid!
Email info (at) believeinabudget (dot) com
Include your name and email address you have on file with Gumroad.
You will receive an automatic email once you have been enrolled, which will include your unique affiliate link along with all the technical terms and information. Your unique affiliate link will direct your readers to The Ultimate Resource Guide landing page on Gumroad with checkout instructions.
*Here's how you get paid*
You will receive an email everytime someones purchases this guide with your affiliate link which lets you know how much you have earned
As long as your reader purchases The Ultimate Resource Guide within 30 days of visiting the affiliate's link, you will get credit for the sale
Affiliates are paid out every other Friday, directly from Gumroad
The Ultimate Resource Guide will be available for purchase year round, so there are no blackout dates
Grab the images below
Add these images to your website, newsletter or social media. Just click "save image as" and save each photo.
728 x 90

---
300 x 250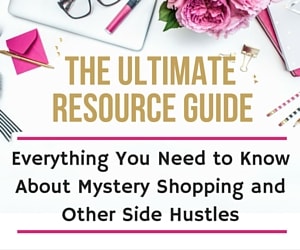 ---
300 x 600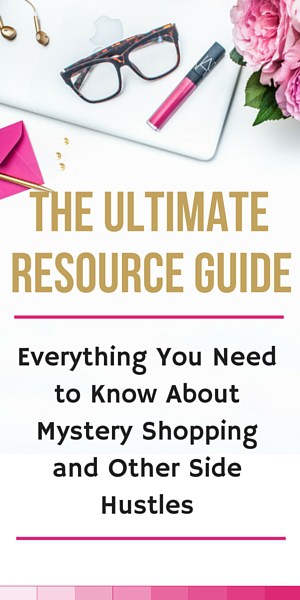 ---
350 x 549

---
Start promoting!
One of my favorite ways to earn passive income is from affiliate links. I have a few products that I have promoted on this website in different posts. Thanks to my automation schedule with Pinterest and Twitter, these posts are always being viewed and remain evergreen. This is one of the best ways to add affiliate links and earn passive income.
Likewise, creating evergreen content with your custom affiliate link is a great way to mention this guide in your post. I've even created a handful of ways you can mention the Ultimate Resource Guide.
How to side hustle

blog post.

 List this guide as one of the ways to side hustle!
Write a blog post about your

New Year's Resolutions to earn more money in 2016

. Include how this guide will you help accomplish this goal.
Have you earned an extra income from this guide?

Write a post about it and let your readers know.
Resource list. 

Does your blog have a resource list of where readers can find products that you recommend? Add this guide so your readers can learn more about it.
Write a newsletter. 

If you think your email list would benefit from this guide, let your readers know.
Add an image to your sidebar or footer.

Don't just place the image there and hope people will click on it – write a short sentence on why it's on your sidebar, such as "My review of the Ultimate Resource Guide" that links to a review on the guide, or something short and sweet like "Learn how to side hustle like a pro."
Use Promo Code 2016makemoney and your readers will receive 25% off.  This promo code expires on January 31st. 
While the ads on my sidebar do well, I find that the more I can share a personal experience or write from the heart in a blog post, the more likely my readers will understand me and what I place value in. My readers come to my website looking to solve a problem, so I try to write posts that will educate and help them!
Thanks again for spreading the word!
If you have any questions, please feel free to reach out to me at info (at) believeinabudget (dot) com.