By now you've probably seen my Simplified Planner make an appearance in almost every picture I share on Instagram.
My Simplified Planner history
For over four years, I've been using a Simplified Planner. It's my go-to planner to help me stay organized. I save all my planners – aren't these colors in this picture below super fun?! My current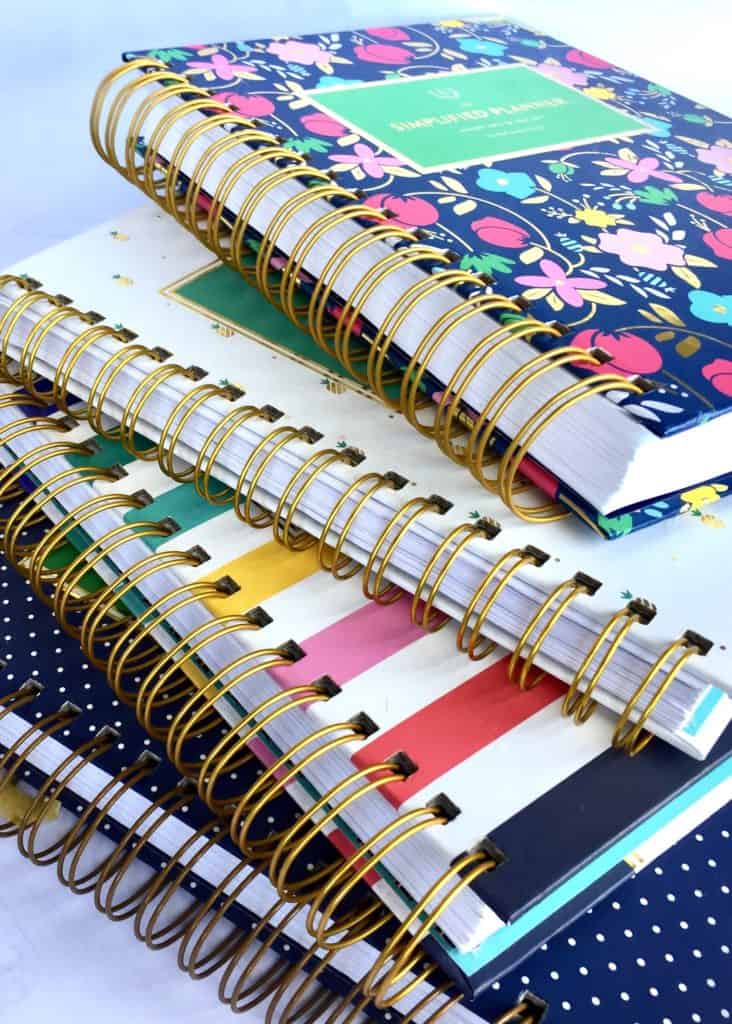 planner is the one on top! 
As much as I love technology, I prefer keeping a physical planner around.
I don't know why, but I like being able to physically cross off my to-do list each day! 
The Simplified Planner is easy to toss in my tote bag, keep on my kitchen counter or have out on my desk when I'm working.
I've shopped around for other planners to see what else is available, but always come back to this planner.
I don't know about you, but it's so hard to find the right planner. I never even realized that I'm picky about a planner layout, and this planner totally works for me!
I really like the size, weight, page layout and of course, the colors available 🙂 
Simplified Planner contents
Here's what you can expect:
When you receive your planner, it will arrive in a navy blue keepsake box
Size: 6.75 x 9 inches (7.75 x 9″ including binding)
The planner comes out twice a year. There is an August-July and a January-December version
One day per page and shared weekend pages
Hourly schedule spots from 6am – 9pm
Space for schedule, to-do, notes and dinner plus plenty of white space
Full month calendar views that include small monthly views of the previous and upcoming month
Pocket inside the front cover to keep receipts, pad of paper, important papers, etc.
In regards to the paper quality, I have been very satisfied with the thickness of the paper. I use Le Pens as well as gel pens when writing in my planner and have not had to worry about the markers bleeding through. Le Pens are my favorite pens to use with my planner! 
I also really love the size of the Simplified Planners! It's easy to toss in my tote bag and carry around with me. I don't feel like it takes up my whole bag or weighs it down. Plus they aren't bulky or oversized.
How I use my Daily Simplified Planner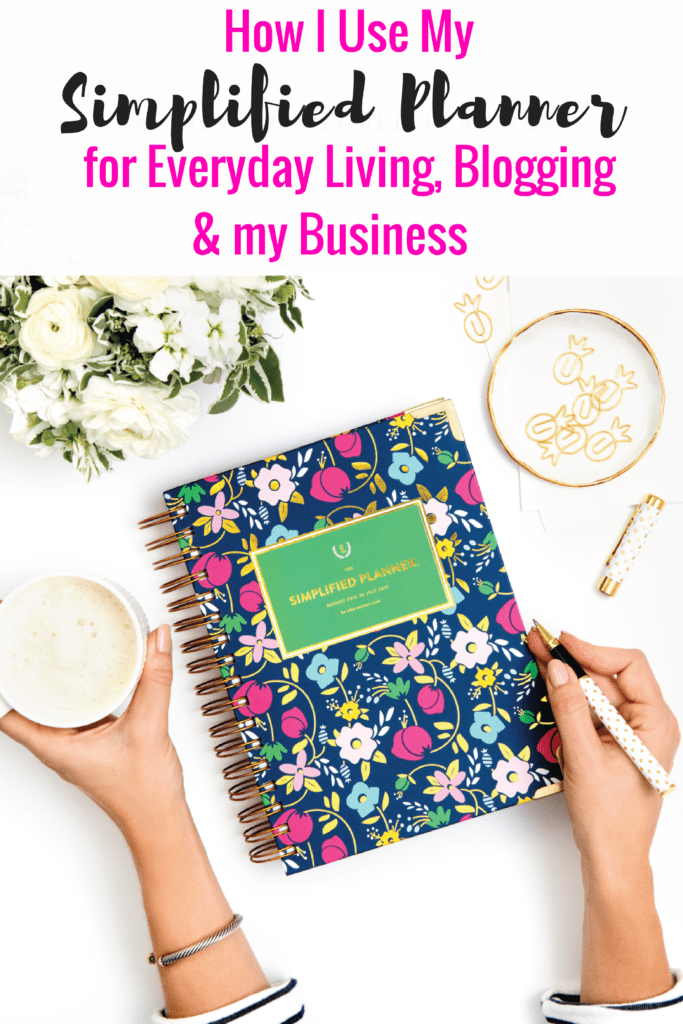 In previous posts, I've shared what a typical work day is like for me. 
Many of you asked how I stay organized and get so much done every day. 
Related:
A typical day in the life of a part time blogger
A typical day in the life of a full time blogger
So how do I stay organized? I use the Simplified Planner to stay on schedule and power through my to-do list.  
Warning: I use my Daily Simplified Planner hard!
I try my hardest to write pretty (ha, most of you can relate to this, right?) but it can get a little messy looking after a busy day or week! 
Here's exactly how I use my Daily Simplified Planner:
I refer to my planner for everything! I use it to write down personal appointments, coffee work sessions with fellow bloggers, Skype business hangouts, dates I publish blog posts and more. Basically, I keep my whole life in my planner!
I love crossing off tasks that I have completed. It makes me feel like I am accomplishing things and getting my list done!
I'm not scared to write in the margin or any of the white space. Sometimes I'll remember something totally random and need to write it down, so I'll add it to my planner.
The Simplified Planner comes in four different colors.  Top left: Happy Stripe*, top right: Fuchsia Dot, bottom left: Gold Pineapple*, bottom right: Fancy Floral*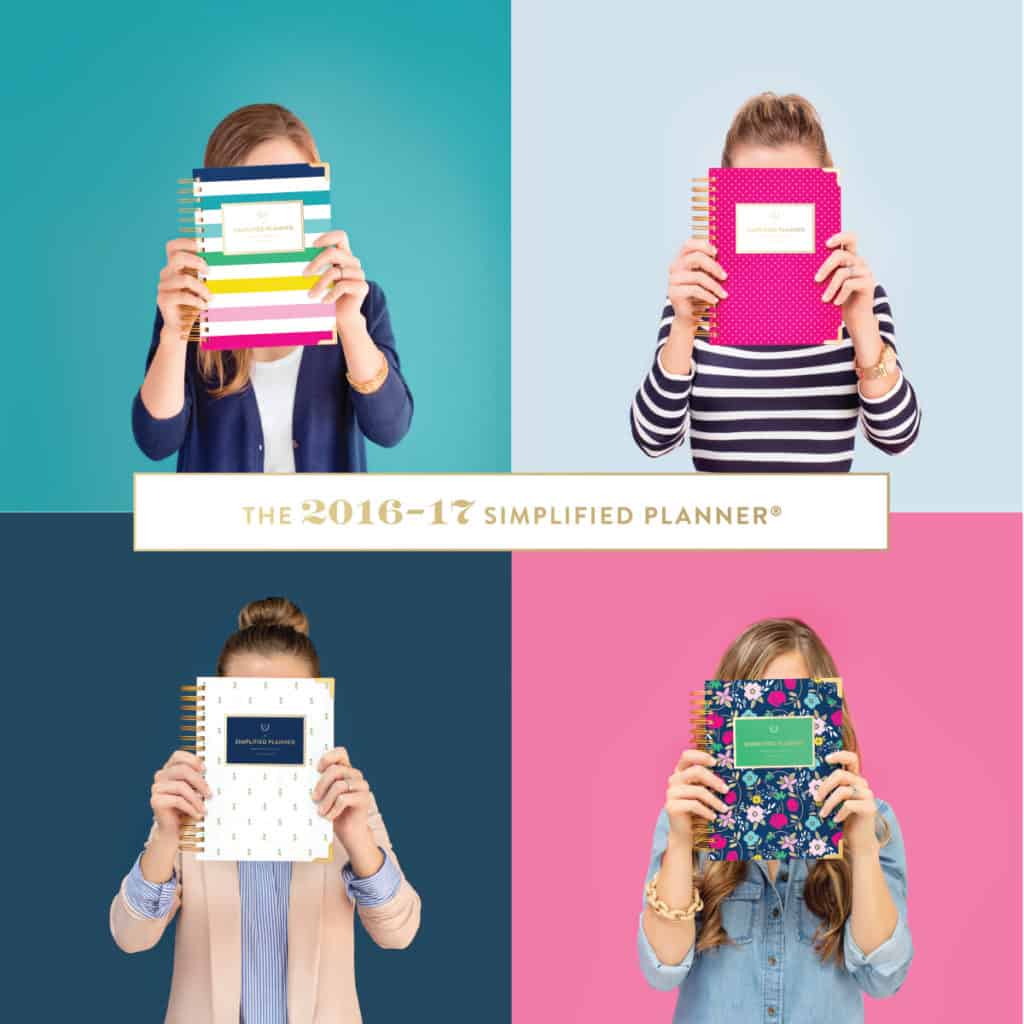 *I have the planners in these covers (currently and previous years) and just love them all. Seriously, I have the hardest time each year selecting which cover to pick!
How to create a blogging schedule 
While I love the flexibility of working from home and creating my own blogging schedule, it's really important for me to have a routine. Through a lot of trial and error, I've also worked hard to figure out a schedule that works for me. 
Here's a few tips to help you create an effective blogging schedule:
Find your golden hour. This is the time of the day that you work best, stay focused and can get a lot of work done. For me, I work best early in the mornings.
Work smarter, not harder. There's no rule that says you have to work eight hours a day. I find that I can blast through work during my golden hours instead of working all day long.
Write your schedule out ahead of time. Every evening, I typically write down my schedule for the following day as well as try to plan out my work week ahead of time as much as possible. I find that I'm the least productive if I start out my day with no real schedule!
Color coordinate your tasks. I like to keep work tasks in one color, home/personal tasks in a different color, etc. This really helps me group together tasks and stay organized.
Work in batches. If you have repetitive tasks that you have to do every day, try to
work ahead and get all the work done and schedule it in advance. For example, I use Tailwind to schedule all my Pinterest pins every day. Instead of doing this task on a daily basis, I spend around an hour a week scheduling all my Pinterest scheduling at one time. 
Do you use a planner? Do you use a calendar on your phone or prefer to have a paper calendar?