I am so excited to share my very first blog income report! I am completely shocked and really happy.
I didn't make much, but it doesn't matter to me. This blog is an outlet and a way to connect to other bloggers, so having actual blog income is stunning.
I am definitely a newbie when it comes to blog income, but I have to start somewhere.
If you are thinking about starting a blog, this tutorial will help you start a blog today. You'll also get a FREE domain name for a year! I was able to quit my job and blog full time, all within my first year of blogging. I am really glad I took a chance and started a blog. I made $13,000 in 6 months of blogging. That's the best return of investment ever! Read the tutorial to start your blog.
My First Blog Income Report
Towards the end of 2014, I purchased this blog. In January 2015, I decided to get serious about my blog and treat it more like a business. I really wanted to make blogging a side hustle that earned me money!
I finally got confident enough to comment on other bloggers' posts (shy, introvert here), join Twitter and sign up with Pinterest.
At the start of 2015, I committed to writing 2-3 times a week, improving my photos and making my website more user-friendly.
I paid for a domain and a wordpress website, used a free theme and had no idea what I was doing.
I knew I wanted to monetize my blog and earn blog income at some point, so I added Google Adsense onto my website. I read over and over again that blog income from Adsense would take time to build and it definitely has.
I recently added a few affiliate links based on products I used. I was comfortable telling someone about a book I read, a WordPress.org theme I installed myself and a product I used in the blogging world or real life. I chose to only add affiliate links that I could 100% recommend to others.
So without further ado…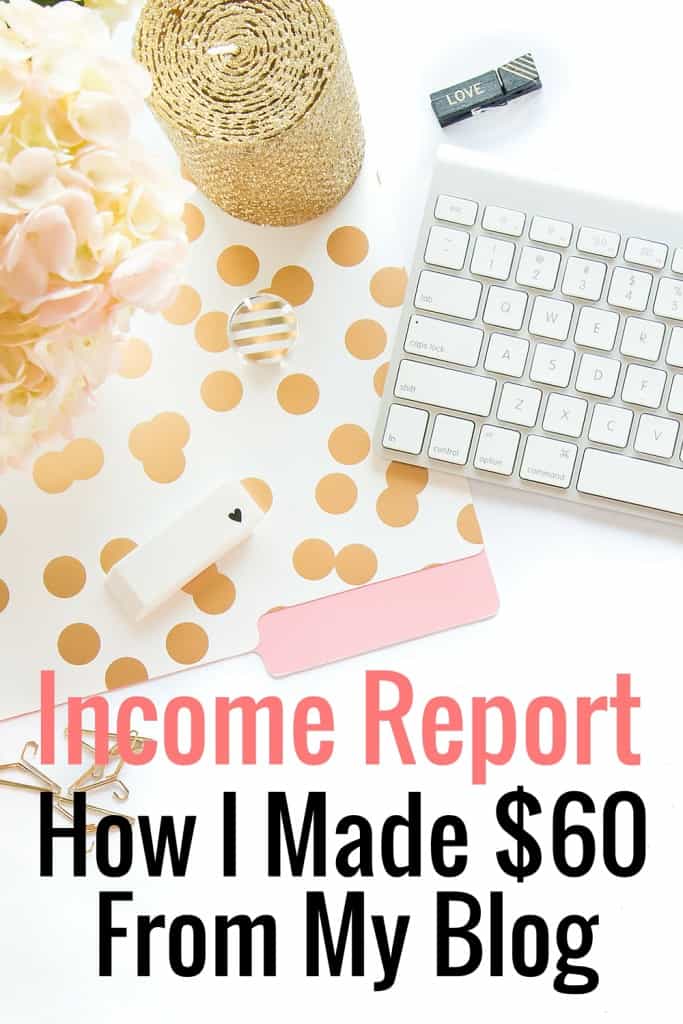 Blog Income
Google AdSense – $0  (Although I have inched closer to the $100 threshold, I don't count the monthly income my blog is generating until I receive payment)
Affiliate Sales – $61.83 (This is a combination of cash and credits)
I actually earned a little bit more than this during the month of March, but some of the affiliate sales are not paid out until the following month. Because of this, I have decided to only report income when I actually receive payment.
My affiliates sources are pretty diversified. The affiliate sales from March come from three different sources.
Right now I am working with:
Ebates – hello, free cash back when you shop online! You literally get cash back when you make an online purchase. The cashback is deposited into your PayPal. If you want to try Ebates, use my exclusive link to get $10 off your first $25 purchase AND earn cash back.
Ibotta is another free cell phone app. You use it after you go grocery shopping and use your receipt. It's basically a rebate app, so you can earn anywhere from 50 cents to $5 off everything you buy.
My favorite part about this app is that it's not always brand specific, like a lot of coupons are. So you'll be able to scan "any brand of bread" for 50 cents off, etc. If you do coupon – you can STILL use Ibotta and get a rebate. For the diehard couponers out there, this will often result in getting an item for FREE. Crazy, right?
If you want to grab the Ibotta app and start making money off your grocery receipts, click here to get started. You will receive a cash bonus of $10 when you scan your first item! 
Studiopress – You need the Genesis theme to start a WordPress blog. There are other themes out there, but the Genesis theme is supposedly the best theme to use for Google search results.
Restored 316 Designs – the pretty theme I use for this blog is called the Darling theme. There are a TON of themes to choose from depending on your blogging niche. 
I think it's really important to be a part of different affiliates as I don't want to depend on just one source. I actually had two more affiliate sales from different sources in March, but as I mentioned above, they do not pay out until this month so I am not including them in my March blog income report.
Blog Income Expenses
I did not include my expenses from Bluehost, as I paid for my domain name and hosting a year in advance. 
If you are thinking about starting your dream blog like me, this tutorial will help you start a blog today. You'll also get a FREE domain name for a year! I was able to quit my job and blog full time, all within my first year of blogging.
I am really glad I took a chance and started a blog! I invested around $100 to start my blog using Bluehost, and I made $13,000 in 6 months of blogging. That's the best return of investment ever! 
Total March Blog Income: $56.83
I have no idea what my blog income will be in April. Part of me thinks this is a fluke and can't be real, so I have zero expectations for April. Clearly I can't quit my day job, but I am still excited that something I love to do earned income!
Update 2016: I quit my job in October 2015 to blog full time! You can read about my big announcement here.
In under a year, I was able to:
grow my blog from 1K to 160K monthly pageviews (today I get over 200K monthly pageviews)

earn a real income (enough so I could quit the day job!)

turn one of my side hustles into my own full time job! (also crazy!)
Here are some of my blog income reports so you can see how my income increased each month, how I was able to improve my page views, and start earning consistent income! I'm totally transparent and share what works, how much money I make, what I need to work on and more!
Interested in starting your own blog? Scared? Here's a couple tips so you can start your own blog and start making money!
Read this tutorial on how to start a blog. It gives you blogging ideas, tells you everything you need to do to get started, as well as what to do after you launch your blog.
If you are scared to start a blog, read this blog post on how to overcome your fear of blogging. I was really scared to start this blog for a number of reasons, which I share in the post. I bet you are experiencing the same fears that I once was! You can read the post here. 
If you are unorganized and need some planning (you guys know I love planning), you can get organized with this FREE blogging workbook.
If you want to learn more about Elite Blog Academy, you can do so here. It was the first course I took that helped me learn what to write about, grow my blog, figure out my VA biz and create my first course.
After you set up your blog, sign up for my VIP email list (at the very bottom of this page) and join my private Facebook group. This Facebook group is for bloggers, has a super positive attitude and is super active with helping each other!
Have you thought about how to start a blog to make money? What's holding you back?