If you follow me on Twitter, you might have seen this tweet from the other day –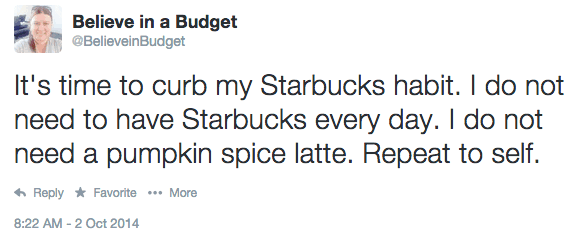 First let me start by saying this- I live in the coffee capital of the world. Well, at least the coffee capital of the US of A. It is impossible to go more than a couple blocks without seeing a coffee shop and be tempted to grab a cup of joe. Is temptation a good excuse?
I analyzed my last few months of spending at Starbucks, and I am averaging roughly $80 a month at Starbucks. I am very routine when it comes to Starbucks. I usually only grab a coffee before work and very rarely buy coffee on my days off.
Is spending $80 a month at Starbucks too much?
My order does not really vary. I enjoy a grande iced coffee most days, which is a little under $3.00. Occasionally I will add a bagel with cream cheese, which is an extra $1.50. With fall here, the PSL's (pumpkin spice lattes) are hard to turn down and will be the death of me. Those cost a little over $5 for a grande and aren't the best for my waistline either, ha! Overall and on average, this adds up to anywhere from $3-$5 per visit to Starbucks.
In my defense, I can say that I rarely eat lunch out at work. I pack my breakfast and lunch daily and always eat in the office. The only time I have eaten out is when my co-workers and I received a group gift card from a local restaurant, so it was free! I don't really have the time to leave the office and dine out, so this works out really well for my wallet. My work also provides unlimited coffee and beverages as well, so I save money not packing a drink.
What could I spend $80 on instead?
If I look at my monthly budget, $80 could cover my cell phone bill and my cable and internet bill. Or it could pay my car insurance and I would still have a little left over. But is this worth it? There are many days where my purchase at Starbucks is my only purchase. Maybe I should just modify my budget to accomondate this?
So here is the bottom line
Grabbing a coffee at Starbucks is a cheap splurge that I really enjoy. I love my daily coffee and it feels like a treat while I'm working in my office. With that being said, I think I am going to try to cut this habit in half. My work has great coffee and I am going to take advantage of the fact that it is free! I am going to make an effort to curb my spending and try to reduce my monthly Starbucks coffee habit in half.
Do you have a coffee habit? Do you have a daily splurge?